Europa League: Aberdeen look to sculpt victory in Macedonia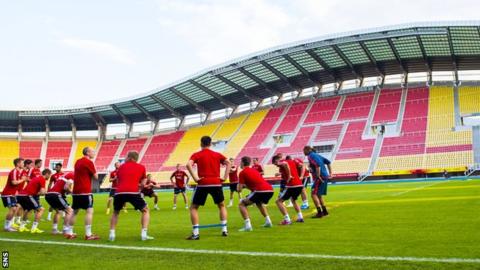 Europa League first qualifying round, first leg: Shkendija v Aberdeen
Venue: Philip II Arena, Skopje Date: Thursday, 2 July Kick-off: 20:05 BST
Coverage: BBC Sport website
Aberdeen flew into an overcast Macedonian capital in mid-afternoon and manager Derek McInnes immediately declared himself happy with the playing conditions at the national stadium in Skopje.
Temperatures were relatively balmy ahead of their pre-match training session at Philip II Arena, the venue to which the Europa League qualifier has been switched from Schkendija's home town of Tetovo.
"The pitch is in good condition," said McInnes. "Obviously it's a wee bit dry at the minute, but we've got the ability to water the pitch, so hopefully it's not too much of an issue for tomorrow night."
The capital city has a population of more than half a million people and, at first glance, it seems that there was a statue for every resident.
One giant sculpture of Alexander the Great on horseback looked as through it would overshadow the Richard Donald Stand back home at Aberdeen's Pittodrie Stadium, with its looming presence rearing high into the Macedonian air on a plinth that looked as solid as the surrounding hills.
The Dons have around 200 supporters with them and they'll certainly be greatly cheered by the prices, which are a world away from those required to wine and dine back in the oil capital of the United Kingdom.
A beer will cost them around £1.10, while a meal will set them back around a fiver.
Dons fans will be hoping that their opponents for this first qualifying round first leg are as welcoming in the match.
There was an air of quiet confidence about the Aberdeen squad on the flight over and, with a full complement to choose from, McInnes seemed relaxed yet eager to point out that this was no jolly for his side and that his men would adopt their usual professional approach.
"I think we believe in ourselves that the preparation has been good and if we reach somewhere close to our level then it'll give us the chance to hopefully get the positive result that we want to take back to Aberdeen," he said.
Aberdeen seem unlikely to be fazed by a hostile atmosphere with the game having been moved from Schkendija's home base. The national stadium is likely to be only around one tenth full.
"They're a technically decent side, as you'd expect, and they're under a new coach," McInnes said of the Dons' opponents.
"We've managed to watch their pre-season games. Their last pre-season game was a slightly different style in terms of how they try to get up the pitch, but they have a way of playing that I think suits them.
"Tomorrow, the heat may be a factor in terms of the pace of the game, but we feel we're better when the game's quick and there's a tempo to our play and we would want to try to make sure that we play at a tempo that suits us."
If the Dons players have a leisurely stroll to see the sights before the game is played, they will enjoy a city with a collection of neo-classical buildings, ornate columns and an environment that has been labelled the European Capital of Kitsch in one British newspaper.
The former Yugoslav Republic has been a builders' dream in recent years with a construction boom aimed at increasing the flow of tourists to a city undergoing a renaissance.
The Dons fans who have made the trip will be hoping to enjoy the Skopje sights but also to take home the spoils.