Women's World Cup: England are heroes, says Mark Sampson
Last updated on .From the section Women's Football
England deserve to "go home as heroes" after their dramatic semi-final defeat by Japan at the Women's World Cup, according to manager Mark Sampson.
The Lionesses matched the holders over 90 minutes in Edmonton, but defender Laura Bassett's agonising injury-time own goal gave Japan a 2-1 victory.
"It really is heartbreaking. I'm so proud of them," Sampson said.
"I've told them it's OK to cry. They left everything on the field and it's a really tough way to go out."
England had made history by reaching their first Women's World Cup semi-final but could not go one step further as unbeaten Japan set up a repeat of the 2011 final with the USA on Sunday.
The Lionesses will face Germany in Saturday's third-place play-off.
'As good as having a medal around the neck'
Sampson, 32, said that the spirit built in the England squad and the togetherness fostered during the tournament was as good as winning a medal.
"We came here as a huge underdog with the weight of a nation on our back. The players have inspired a nation and they deserve to go home as heroes," Sampson added.
"This team has shown the world what it is capable of. The players will have special memories for the rest of their lifetime.
"I can't find a word to emphasise how together this team has been. They are a special group to work with and have shown what type of people they are and what type of team they are. I can't be prouder.
BBC Sport's Alistair Magowan on emotional Sampson
"As soon as Mark Sampson walked into the post-match news conference, you could tell he had shed a tear. His eyes were red, and he looked alert, the Welshman still coming to terms with the cruelty of his team's exit. 'Oh what a tough one to take,' were his first words with the most rueful of smiles, but after he had gathered his composure, he was bullish. This was no failure, he insisted.
Sampson said women's football in England had now found its catalyst. 'Let's raise the bar, let's build on what this team has done.' Once the tears have dried, fans will realise that the Lionesses have been a success. Now, it is up to Sampson and the Football Association to capture the moment and ensure women's football stays in the nation's consciousness."
"To talk about that is a good as winning the World Cup for us. We felt we could go all the way but what we have achieved and the values this team epitomises is as good as having a medal around the neck."
'Bassett is a role model'
After Aya Miyama gave Japan the lead from the penalty spot, Fara Williams equalised with a spot-kick of her own.
England twice hit the woodwork in the second half and the game looked to be heading for extra time until Bassett agonisingly diverted a cross into her own net off the crossbar.
The Notts County defender was inconsolable at full-time but received the full backing of her manager.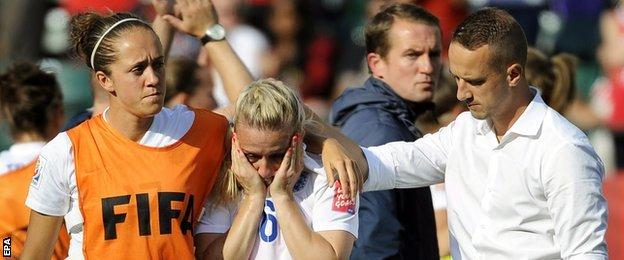 "Laura Bassett's name is on that scoresheet but she has epitomised the team," Sampson said. "She has been courageous and strong.
"It is a horrible moment for Laura but you can see how her team-mates regard her by their reaction. When that ball went over line, we were devastated but the first point of call was to look after your own.
"We get around her, let her cry, tell her how proud of her we are, because without her we wouldn't be here in this semi-final. She was outstanding over the tournament and we will be there for her.
"Anyone who knows Laura would be privileged to have her in their life. She's a role model for every player in our team. She is a hero, an absolute hero, that is how she will be remembered."
'We gave everything for the jersey'
England captain Steph Houghton said the team had been on "an amazing journey".
"The only thing I have to say is that I am so proud of all the girls and staff," she said.
"That's football. It can be cruel sometimes but we have to try and pick ourselves up and play Germany on Saturday.
"These are a bunch of girls that give everything for the jersey and are great people. We have tried to perform and get to the World Cup final, but it just wasn't to be."
'We pushed the holders all the way'
England goalscorer Fara Williams said Japan's winner was a "fluke goal".
"As a squad we are proud to push the world champions to the wire. We really pushed them, our game plan was spot on," she said.
"Laura Bassett feels like she has let everyone down but she has given everything for England."
'We will bounce back'
Striker Toni Duggan said Bassett had been England's "rock".
"I know how much she wears her heart on her sleeve, she is a great example for any player out there and I know she will bounce back from it," she added.
"In the end it just wasn't meant to be. I am proud of how far the team has come and I know we'll bounce back."