Celtic: Saidy Janko relishes new challenge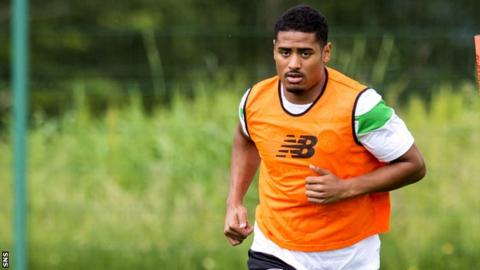 Saidy Janko would have been happy to stay at Manchester United but could not resist the opportunity to challenge for first-team football at Celtic.
The Swiss Under-19 international has signed a four-year deal with the Premiership champions.
And he is also looking forward to experiencing the atmosphere of European nights at Celtic Park.
"Even the big players like Messi, Xavi, they dream about the atmosphere at Celtic Park," said Janko.
"I was quite happy to stay at Man United but Celtic are hard to resist. Here, I'm with the first-team every week, I'll train with them and hopefully get in the first 11. At Man United, it was a bit more difficult.
"I know Celtic are a massive club in Europe, all over the world everyone knows Celtic. The supporters, the stadium, everything is huge.
"Man United is a big club as well and I had a great time there, but I needed a new challenge.
"That's why I came here, to get more playing time. If I push more, the other team-mates push more, so the whole level gets better. That's good for the whole team."
Janko spent time on loan at Bolton last season but did not speak to manager Neil Lennon, formerly with Celtic, about his move to Glasgow.
But he did discuss Celtic with Filip Twardzik, who left Parkhead for Bolton in January.
His focus is also firmly on establishing himself at Celtic Park, and he does not view the move to Scotland as a stepping stone to a return to England or elsewhere in the coming seasons.
"I signed here for four years and I want to do my best," the 19-year-old full-back said. "I hope I can please the fans with my performances. I'm a Celtic player and my head is here, I'm not looking to going anywhere in a few years' time.
"The Champions League is every kid's dream and it's a plus. It's definitely a huge point for me.
"Ronny Deila is a very good coach. He spoke with me about many things, I can't tell you everything, but I've got a lot to work on and he wants to make me better as a player. That's what he told me."