Women's World Cup: England's Carney devastated for Bassett
By Alistair Magowan
BBC Sport in Edmonton
Last updated on .From the section Women's Football
England's Karen Carney broke down as she described her "devastation" for her best friend Laura Bassett, whose injury-time own goal knocked England out of the Women's World Cup.
Carney, 27, who has previously said how Bassett helped her during depression, said: "She is a great person, a great team-mate. The own goal won't define her and I won't allow it to."
England were just one minute away from taking the game to extra time against the highly rated Japanese side, who will now face the United States on Sunday (kick-off Monday 00:00 BST) in a repeat of the 2011 final.
At the final whistle, Notts County defender Bassett burst into tears with her team-mates quickly rushing onto the pitch to console her.
Had Mark Sampson's side progressed to the World Cup final, they would have been the first England team to do so since 1966 when the men's team won the competition.
They must now play a third-fourth place play-off against Germany in Edmonton on Saturday.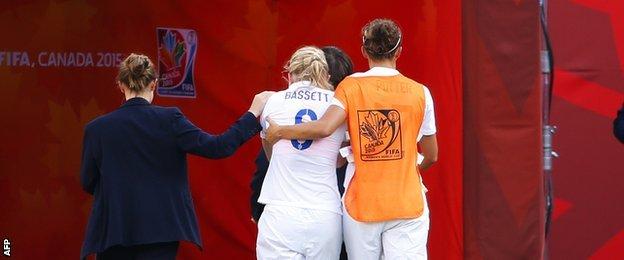 Forward Carney, who has scored twice in the Women's World Cup, described during the tournament how Bassett had literally dragged her out of a car for football training while the pair were team-mates at Birmingham Ladies in 2011.
At the time, Carney admitted that she "hated football with a passion" following a spell in the US.
Carney said of Bassett: "She's awesome and I hope the country gets behind her and gives her the support and the love she deserves because the girl who had a black eye in the first game against France has bruises all over her body. She puts her body on the line time after time for her country and her club.
"She will bounce back, she is strong as an ox and we will support her and get her back to help us get that third place we deserve."
Sampson, who was emotional in his post-match news conference, refuted suggestions that Bassett would be cast as a villain in the British media.
"I'm not having that," he said. "Our media will be behind Laura Bassett, when she comes home she will be seen as a hero.
"Anyone who knows her is privileged to have her in their life. She's a role model for every player in our team, I've never seen someone train as hard, and commit to a cause.
"You can talk about any value you want to associate with a good person, she has it in abundance. If she was your sister or friend, you would be very lucky to have her in your life."
Carney said of England's exit: "There's nothing you can say when everyone has not just put in 18 months hard work, it's been since we were 11 years old.
"To be in a semi-final, to be so close and be the better team, it is heart-wrenching."