Nicolas Anelka named Mumbai City player-manager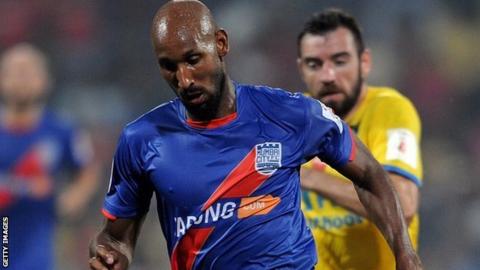 Former Chelsea and Arsenal striker Nicolas Anelka has been named player-manager of Mumbai City.
Anelka, 36, played for the Indian Super League side last season under ex-Manchester City manager Peter Reid.
"He impressed us all with his tactical knowledge and excellent motivational skills," said Mumbai City co-owner and Bollywood actor Ranbir Kapoor.
Anelka has filled a player-coach role before during a season spent at Chinese club at Shanghai Shenhua in 2012.
The Frenchman only managed two goals in seven league games in his first season at Mumbai but returns as the club's 'marquee' player, meaning he is eligible for a higher salary.
"We are all very excited to start this new season. I'm personally very eager to take on this new role for the club and put a strong competitive team on the pitch," said Anelka, who has played for 12 clubs in his career.
Mumbai finished seventh of eight teams in the Indian Super League's inaugural 2014 season.
"We will provide Nicolas all the support required to try and win the league this year," added Kapoor.
Anelka's spell in charge of Shanghai in 2012 lasted around two weeks before French coach Jean-Florent Ikwange Ibenge was appointed on an interim basis.
Uncertainty at the club prompted Anelka's move back to England with West Bromwich Albion, who terminated his contract after less than a year following his ban for use of the controversial "quenelle" goal celebration.
News of the latest development in Anelka's tumultuous career saw over 5,000 tweets in three hours featuring his name, prompting a worldwide trend on Twitter.