Women's World Cup: England success leaves WSL legacy
Last updated on .From the section Women's Football
England women became the country's most successful football team in half a century, captured the imagination of a nation on the way to World Cup bronze and attracted unprecedented attention along the way.
Coach Mark Sampson labelled his team "legends", while the Football Association welcomed them back as "poster girls" for the game - but what legacy was cast in Canada?
In south-west London, AFC Wimbledon Ladies have added three more girls teams, at Wembley they are encouraging more dads to back their daughters on the football pitch and across the country clubs are anticipating bigger crowds.
So as the players shift their attention back to club duties in the Women's Super League, where you can buy a ticket to watch Liverpool Ladies for the same amount of money that you would spend on a cup of tea at Anfield, BBC Sport looks at how the World Cup will impact on women's football in England.
Dads, daughters and dugouts
The latest numbers show that fathers would sooner put a tennis racquet in their daughter's hand and will them to play at Wimbledon than have them lace up a pair of football boots and dream of Wembley.
England and Notts County defender Sophie Bradley, who was taken out of World Cup contention with a knee injury, faced that very battle as a young girl trying to convince her father Russell that it was not just a "boy's world".
While the Lionesses were on the way to winning World Cup bronze in Canada, the FA was busy trying capitalise on the record exposure by launching a We Can Play campaign. The aim is to entice more players to try the game, to change preconceptions and recruit an army of dads as supporters in an effort to make women's football the second most popular team sport in Britain behind men's football by 2018.
Polly Fildes, women's football national project officer for the FA, said: "We Can Play calls on parents to provide greater support for their daughters - one in five dads want their daughters to play football. We think it should be five out of five."
Why dads say football is not for girls

25%

see other sports as more suitable

24%

think girls prefer other sports

22%

see football at a man's game

19%

feel women's football lacks quality

17%

concerns girls will get injured

16%

see it as unladylike

* The FA used the independent research company

to survey 1,000 dads
Football is now the most popular team sport amongst girls and women, with 2.89 million participants playing for 5,000 girl's teams, and yet the sport lags behind tennis, swimming, athletics, gymnastics, netball and martial arts when it comes to the sport that fathers want to see daughters involved in.
Laura Bassett's tears and Fara Williams's winner against Germany to make the Lionesses the most successful English football team in 50 years has given the game the pin-up players it always needed.
"These girls will be poster girls," said Fildes. "At the elite end of the game we've got excellent role models for young girls.
"There is no better time for women and girls to start playing the game - we've just had the World Cup, we have the Women's FA Cup final taking place at Wembley and a thriving WSL season to return to."
However, as well as players, the FA is also determined to increase the number of female coaches and officials in the English game.
The number of qualified female referees in England rose by 7% between 2010-11 and 2014-15, meaning that England is currently ranked third in Europe for its production of women referees, after Germany and Italy, with over 900 referees.
On the training ground, nearly 10% of level one qualified coaches in England are now female but, at the other end of the spectrum, there are only 26 English female coaches with the UEFA A licence.
Qualified coaches in England

Award

Total

Male

Female

Level One

320,404

288,934

31,470

Level Two

73,384

69,040

4,344

UEFA B Licensed

9,881

9,551

330

UEFA A Licensed

1,379

1,353

26
In the dugout, there are currently just two female managers in the top two tiers of the WSL, Chelsea Ladies boss Emma Hayes and Reading FC Women boss Kelly Chambers.
Former England manager Hope Powell recently described the global number of female coaches as "devastating".
Into England hearts and through the turnstiles
You can now watch Liverpool Ladies for the same amount that it would cost you to buy a cup of tea at Anfield.
The Lady Reds have taken the relative low costs of watching women's football to a new extreme by introducing a half season ticket, meaning a family of four (consisting of two adults and two children) can support the team at all of their six remaining home fixtures during the second half of their WSL 1 campaign for just £30.
This works out at a staggering £1.50 per family member, per match. That is cheaper than buying a pie at any men's Football League club, according to the BBC's Price of Football study.
Even before the Lionesses roared in Canada and the defending WSL champions put bargain tickets on sale, the domestic game in England was attracting record numbers.
Since the WSL was founded in 2011 there has been an increase of almost 70% in attendances, with a 22% jump between average crowds in WSL 1 in the past 12 months alone.
The Lady Magpies, who had five players at the World Cup, expect England's exploits over the summer to further boost numbers.
"The World Cup has had a huge impact on the interest surrounding the games and we hope that will be shown through in those who come along to support the team," said Notts County Ladies marketing manager Matt Rowland.
Crowding behind the WSL

892:

Average WSL 1 crowds this season

326:

Average WSL 2 attendance this term

1,303:

Notts County average the best home crowds

1,143:

Chelsea with the next best average

1,102:

Watford set a club-record home crowd in March

1,177:

Record WSL 2 crowd for Sunderland v Doncaster last term
Birmingham, who had three players involved in the World Cup - Karen Carney, Jade Moore and Jo Potter - say the "inspirational" achievements are already being felt in the terraces, with online ticket sales at an all-time high for their meeting with Arsenal on 19 August.
"The FA Women's Super League can create just as much buzz as the World Cup has, with highly talented professionals playing week on week," said Birmingham City Ladies general manager Kirsty Hulland.
"We have already seen England's success at the World Cup translate into The FA Women's Super League, especially in the form of pre-sold tickets."
Growing the grassroots game
In the build up to England's semi-final against Japan, AFC Wimbledon Ladies chose the moment to announce that the club would be expanding next season to field an additional three sides and taking the number of players at the club to more than 170.
The Surrey Women's Cup winners, who play in the London & South East Regional Women's League, hope to grow further by encouraging aspiring players to join their ranks and follow in the footsteps of England assistant coach Marieanne Spacey.
The Word Cup impact was also felt in the East Midlands with the Leicestershire and Rutland County FA reporting a rise in enquiries from women and girls interested in playing football.
Leicestershire club Oadby and Wigston, founded in 1997 with four girls, now has 200 on its books across 12 teams.
And one of these players Megan Cox says the Lionesses have been an inspiration.
"I watch them and think, 'I want be like them one day'," she said.
How to follow the WSL on the BBC
BBC Radio 5 live sports extra schedule - July
Sun, 12 July*- Arsenal v Liverpool, WSL 1
Wed, 22 July- Notts County v B'ham City, Continental Tyres Cup
Sun, 26 July- Chelsea v Manchester City, WSL 1
Thurs, 30 July- Doncaster v Liverpool, Continental Tyres Cup
*Commentary available online only until the close of play at the Ashes
The television audience for the 2015 World Cup was more than double the six million viewers who tuned in for the 2013 Women's European Championships and, for both new fans and existing die-hards, there are now more ways than ever before to follow the WSL.
BBC Radio 5 live sports extra's league commentaries will re-start with 2014 champions Liverpool's visit to second-placed Arsenal on Sunday 12 July, which can be accessed on digital radio, via bbc.co.uk/5livesportsextra, BBC iPlayer Radio and the BBC Sport website.
On TV, the Women's Football Show, presented by Jacqui Oatley, returns on Monday, 13 July on BBC Two.
Each show will first be broadcast on the BBC Red Button earlier in the evening, before becoming available on BBC iPlayer, ahead of its network debut on BBC Two.
Meanwhile, the BBC Sport website will continue to include more online coverage of domestic women's football than any previous season.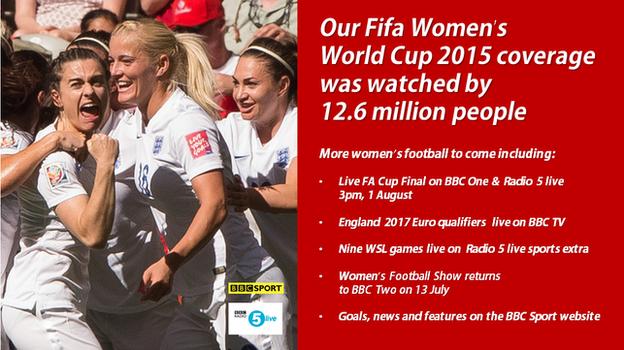 Compiled by Andrew Aloia, Jo Currie and Tom Garry.