Robert Snodgrass: Hull & Scotland star eyes October return
Last updated on .From the section Football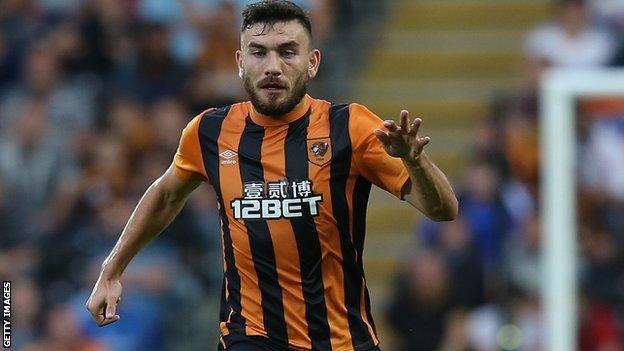 Scotland midfielder Robert Snodgrass aims to "come back stronger than ever" as he enters the final stages of recovery from serious injury.
Having moved to Hull last summer, the 27-year-old dislocated a kneecap on the opening day of last season.
"The physios have set October as a realistic target," he said.
"I'm at the last hurdle now. I've ticked all the boxes so far but the surgeon and medical team are in full control of the steps I make."
In his absence, Hull were relegated from the Premier League, while Scotland have performed well in Euro 2016 qualifying.
"When I got my move to the Premier League I thought I was getting my chance to really show what I can do for club and country.
"But football keeps moving forward. No one feels sorry for you - just need to puff your chest out, work hard and get on with it."
Having been sidelined for close to 11 months, the former Leeds and Norwich player is stressing the importance of not rushing the last phase of his rehabilitation, although he admits he is "itching to get back".
"I saw the surgeon in London yesterday and he gave me great confidence to move on to the next stage," he told BBC Scotland.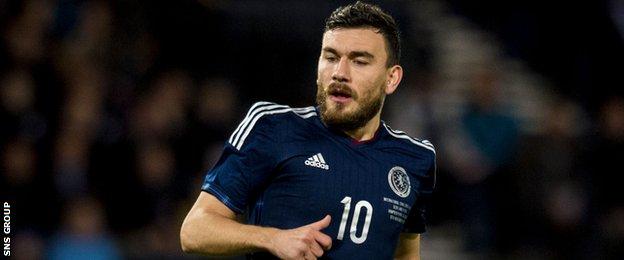 "I had to have a second operation to clean up the scar tissue and that has fixed the crunching in the knee.
"There are a few niggles but it's all about building my strength back up. I'm working outside the gym now and getting some fresh air, which is good.
"Through this whole process, I've slowed everything down to one day at a time because anything could happen tomorrow to challenge me.
"I'm working as hard as I can to make sure I'll be in shape to be in [Hull boss] Steve Bruce's plans and fighting for my position."
The Championship is a league Snodgrass knows well and he acknowledges that an immediate return to the top tier for the Tigers will be tough.
"You win as a team, you lose as a team. I saw how it was for the lads at the end of the season and that will have hit hard over the summer," he added.
"From a selfish point of view, you feel the relegation but the next day I've got rehab work.
"It's happened, now what can we do to fix it? You need to stay positive.
"I want to come back stronger than I ever have been and if I can do that for my club that will lead to a chance for my country."