Eniola Aluko column: Why Man Utd should join World Cup party
Last updated on .From the section Women's Football
The last six weeks in Canada have been a whirlwind but to return to England with a bronze medal around our necks having achieved the best finish by an England team in almost 50 years is mind-blowing.
We feel like we have joined a special club.
Who knows what the reception will be like over the next few weeks, but having beaten Germany for the first time ever and reached third place, it makes all the hard work worth it - and I'm not just talking about our matches in Canada.
Initially, it goes back as far as the start of the qualifying campaign in September 2013, and then further still. This is the type of thing we have been striving for our whole lives, ever since we were little girls and people were saying we weren't allowed to play football.
To arrive home and be mentioned in the same sentence as the 1966 World Cup-winning side is a bit surreal.
The financial rewards in women's football, compared to the men's game, mean that we have always played for the love of the game and now it is time to use this success to make a difference to others. Having made history, we want to continue the snowball effect.
We want to see the 11.9m who watched our matches translate into improved attendances at England's European Championship qualifiers and Women's Super League (WSL) games.
We need to see more investment to ensure all WSL players are professional and a World Cup semi-finalist is not lining up for her club standing next to someone who has to earn a living elsewhere.
And we need to see more clubs running a women's team, Manchester United being the perfect example.
For the biggest club in the world to not have a women's side is puzzling. It must be a commercial decision because I can't think of any other reason. Perhaps they regard it as something which is not going to make money in the next five or 10 years.
The thing is, other teams are willing to take that hit because running a professional women's outfit is way cheaper than running a men's outfit and it does so much for a club's public relations.
Why United have decided not to follow suit, I'm not sure. They already have one of the best centres of excellence in the country, but once players reach 18 they must find another club.
If our success at the World Cup helps persuade the club to change its mind, it would be a massive step for the game and a tangible reward from the tournament. It's OK saying we have reached a tipping point or whatever, but that needs to translate into lasting results.
We have already seen what an established club can do for women's football. In 2013, Liverpool were the trailblazers by becoming the first professional team and they won successive WSL titles. Following that, Manchester City have raised the bar, and that encouraged my club Chelsea to improve their women's operation too.
A Manchester United women's team would not only give more opportunities to play at a professional level, it will give younger girls in that area something to aspire to.
It would encourage more money in the game, more commercial sponsors and a more competitive league. It's a no-brainer really and can only be a positive thing.
Celebrating the win over Germany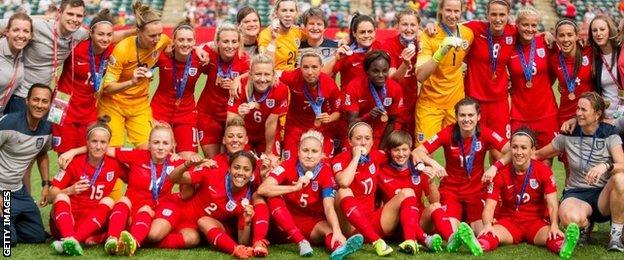 We celebrated the third-fourth place play-off win like any group of team-mates would do with a big party, a few drinks and plenty of dancing. It started on the pitch, as you may have seen, and finished late into the night with a few sing-songs along the way.
After six weeks away, we let ourselves go because it was a moment in all of our lives that we will never forget. We were all wearing our medals throughout the evening and on the way home. My plan is to get it framed as a reminder of all the hard work and sacrifices I've made to achieve that goal.
In many ways, reaping those rewards was life-affirming and it has given us the belief that we want to build on it for the European Championship in two years' time by turning bronze into gold.
From a personal point of view, it was great to get on the pitch against Germany and make an impact after coming on as a substitute. I'd not played since the second game against Mexico so I knew I had to take my chance if it came my way and I'm pleased I played my part.
I also want to mention Laura Bassett, who was immense after suffering the heartache of her own goal in the semi-final against Japan.
Just three days separated those two games but it shows you what type of character she is, that she can bounce back from one of worst moments in her career to come home with a smile on her face.
Our team-mate Karen Carney said the goal would not be an abiding memory and it proved true. For all of us, Saturday was a special moment and now we want to make it count.