'Scotland qualification for a major finals is vital', says Anna Signeul
Last updated on .From the section Women's Football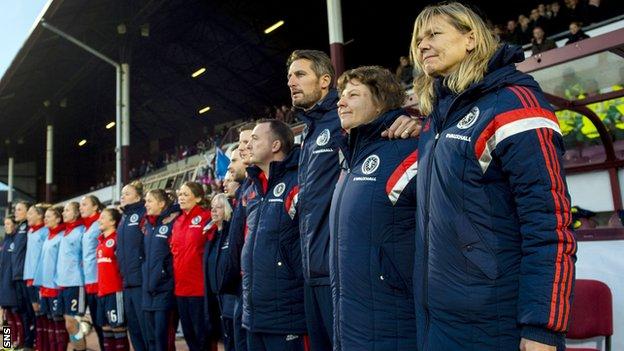 Scotland head coach Anna Signeul says qualification for a major tournament is vital for the development of the women's game.
Signeul saw USA beat Japan 5-2 in Sunday's World Cup final in Canada.
She is hopeful England's bronze medal can also help inspire players and attract audiences north of the border.
"We need to qualify for something so we can get to the next level and I think so many more things can happen in Scotland," Signeul told BBC Scotland.
Scotland begin their qualifying campaign for Euro 2017 against Slovenia in September in a group also containing Iceland, Belarus and Macedonia.
After losing out at the play-off stage three campaigns in a row, the most recent of which a 4-1 aggregate defeat to the Netherlands in October's World Cup play-off semi-final, Signeul is targeting nothing less than automatic qualification.
"We have a fantastic opportunity with this group. We've had tough draws before and tough draws in the play-offs as well so I really think we're worth it," said Signeul.
"I think Holland did quite well (at the World Cup) so you can see that we are not far away.
"The media is such an important partner because they market the game for us; they make it popular, they show it to everyone. We need to make it interesting for media, and it's not interesting if you don't qualify.
"If we qualify we get seen more, we get more resources, we get more sponsors, we get more players playing."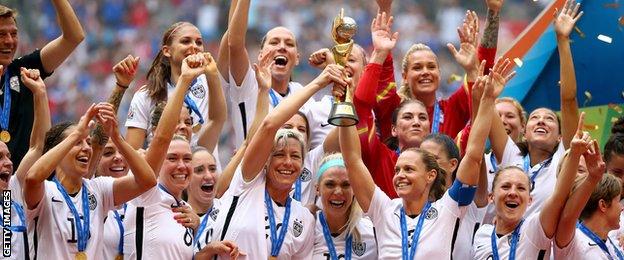 England were beaten semi-finalists in Canada before a 1-0 win in extra-time over Germany earned them a third place finish overall, and the Swede hopes the success of the "Lionesses" gives a boost to Scotland too.
"I think Canadian people have really embraced these championships and it has been everywhere on TV," she said.
"This success for England has been fantastic. I think it can rub off for women's football in the whole of the UK. The most important thing is that we get success, that we are actually getting to a finals stage because that's when you really get the wheels going.
"We've never been satisfied with where we are. We always want to be better on and off the pitch. We're trying to make the our Premier League a little more attractive for media, for getting a little bit more competition.
"Next year in 2016 we are going to eight teams and then a Premier League two that also goes to eight teams. I think it's positive we see Hearts, Hibs, Rangers, clubs who are now embracing their women's teams, even Celtic in a much bigger way.
"I see what happens in all the other countries. I see what happens in Sweden, you need the results to grow."