Phil Neville: Valencia assistant wants to be a manager in future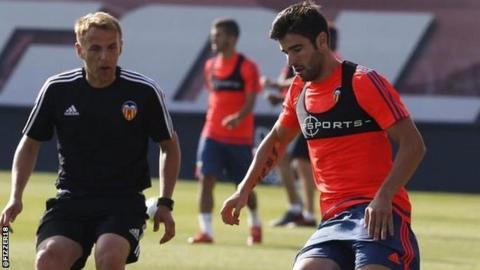 Former Manchester United and England defender Phil Neville hopes a "once-in-a-lifetime" role as Valencia assistant boss will lead to a job as a manager.
The 38-year-old began his new role on Monday before flying with the team to Austria for pre-season training.
"I see it as another A-level on my coaching curriculum vitae," Neville told BBC Sport.
"I've coached at Manchester United, I'm doing my Uefa Pro-Licence and now this is like a bonus."
Valencia finished fourth in La Liga last season and will compete in the Champions League play-off round in August for a place in the group stage.
Former Everton captain Neville, who retired from playing two years ago, is relishing the challenges that await him in Spain as assistant to Nuno Espirito Santo at the Mestalla.
He replaces another Briton, Ian Cathro, who left to join Steve McClaren's backroom staff at Newcastle.
Neville added: "I have been over to Valencia a couple of times and I watched them against Barcelona last November. I spoke to Nuno after the game about football in general."
His ex-Everton boss David Moyes is manager of Valencia's La Liga rivals Real Sociedad and Neville has sought the Scot's advice since being offered the role.
Neville on life in Valencia
"We've been here a couple of days. Between 2pm and 4pm we English tend to go out to the swimming pool and the swimming pool is empty because it's the hottest part of the day. All the locals have gone inside to take a siesta and there's my family and I at the swimming pool just toughing it out.
"We're going to have to get used to the culture. In England I wake up at 6 every morning and I tend to go to bed at 9. In Spain they don't go out until 10 at night. So I'm really going to have to really change and that's one of the challenges... me out of my comfort zone. I'm going to have to change the way I have lived my life the last 38 years."
"It was one of those once-in-a-lifetime phone calls from Valencia. I was picking the children up from school when I got it," added Neville, who made 59 appearances for England.
"Throughout my life I have always tended to rely on my own gut instinct and judgement.
"I did ask David about a few things but only after I had decided to take the role."
Neville is moving his wife, Julie, and two children to Valencia.
"I never thought I'd move away from the north-west," the six-time Premier League winner said.
"It was always going to take something very special to do that and this is a once-in-a-lifetime opportunity for me.
"I'm young in terms of coaching experience and this is the final step on the [coaching] ladder, in terms of learning another culture."
Valencia finished one point behind third-placed Atletico Madrid last season and took four points off runners-up Real Madrid.
Neville on the prospect of Valencia facing Manchester United in the Champions League
"I was talking to my son this morning and he's praying we can get in Manchester United's group so we can have a trip back to Old Trafford. We have got a big obstacle, as do Manchester United, in terms of getting to the group stage. There's some really big teams in the play-offs."
The fixtures for the new La Liga season are released next week, while Valencia's pre-season programme includes a match against German champions Bayern Munich.
"When you have reached the heights that Valencia did last season, we probably over-achieved a little bit," added Neville, who also helped United win the Champions League in 1998-99.
"It's important now to keep moving forward.
"It's a good, young, hungry team with a brilliant young manager."