Reading co-owner Narin Niruttinanon targeting bright future
Last updated on .From the section Football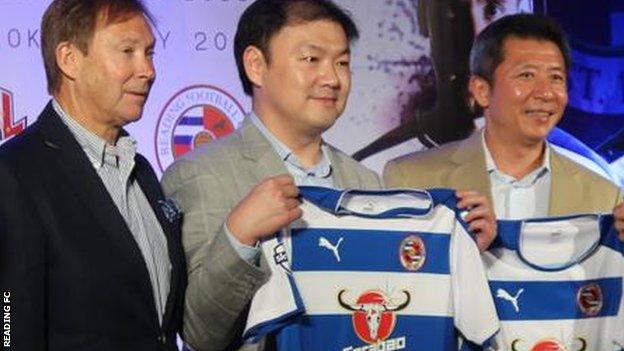 The majority owner of the Thai consortium which runs Reading has spoken for the first time about his vision for the Championship club.
"We are here for the long-term, to do what's best for the team," he told BBC Radio Berkshire.
Reading are currently in Thailand on their pre-season tour.
Steve Clarke's squad landed in Bangkok on Monday where they will play a friendly against Thai Allstars in the capital on Wednesday.
It is the first time the club has visited the country since the takeover in September saw co-owners Sasima and Sumrith Thanakarnjanasuth also claim a 25% stake each.
Bangkok Royals - BBC Radio Berkshire's Tim Dellor
"Through the fog of jet lag, Reading's players will be as bemused as the rest of us by the enthusiastic interest in the club here in Bangkok.
"Despite finishing a lowly 19th in the Championship last season, the club could still pull a crowd. When chief executive Nigel Howe unveiled two new sponsors at a swanky central Bangkok hotel, which happens to be owned by one of the club's part owners, it was standing room only in the vast conference room.
"Narin Niruttinanon took centre stage to address the press for the first time, and in his post conference interview, he rattled out news lines like they were going out of fashion.
"'No' to new naming of Reading's stadium, 'yes' to Sir John Madejski's continued involvement as chairman, 'no' to any communication difficulties between manager and board, 'yes' to a new entertainment arena being built in the car park of the Madejski Stadium."
Mr Niruttinanon also revealed a vision to build a conference centre development next to the Madejski Stadium and a desire to return to the Premier League come next May.
"I may be too optimistic, but I don't see why we can't aim for the play-offs and hopefully have a chance to compete," he said.
"We need to aim high and I really hope we can do well."
Reading will hope to improve on a disappointing 19th-place finish in the Championship last season, although they did reach the semi-finals of the FA Cup before losing to winners Arsenal.
Listen to live BBC Radio Berkshire commentary of Thai Allstars v Reading from 12:55 BST Wednesday.