Morgan Schneiderlin: Man Utd bid confirmed by Southampton boss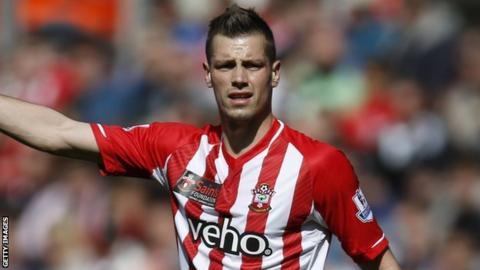 Manchester United have had a bid for Southampton midfielder Morgan Schneiderlin rejected, Saints boss Ronald Koeman has confirmed.
The 25-year-old missed the club's first day of training on Monday, but Koeman said the France international was ill and will fly out to Austria for their pre-season tour.
"Two weeks ago we had a bid from United but it was not the bid we expected," Koeman told BBC Radio Solent.
"It wasn't serious and no bids today."
Schneiderlin has been with the Saints since 2008, including two seasons in League One, and has made 261 appearances.
Last summer, Schneiderlin was a target for Tottenham and he missed the start of pre-season after telling the club he was "not mentally or physically ready" to play after a bid was rejected.
Manchester United hope to sign him before they fly out for their tour of the US on 13 July and Koeman wants a quick resolution either way.
"If there is any business then I hope it will be soon because it is best for the player, best for us and we have to think about ourselves if we sell the player.
"He will travel tomorrow with the team. It may be difficult as everybody knows he'd like to move. But if there is no bid close to what we expect then he's a Southampton player.
"I don't know if the valuation is exactly £25m, that's not my business."
Koeman is confident Atletico Madrid defender Toby Alderweireld will join the Saints permanently despite a potential legal battle.
The 26-year-old Belgium international was on loan at St Mary's last season with an option to make the deal permanent for £6.8m.
Atletico could have paid £1.5m to buy back that clause and instead sell Alderweireld to the highest bidder, with Tottenham and Manchester City reported to be willing to pay more.
But the Saints believe the timeframe for Atletico to take that option has now elapsed.
"Southampton signed an option for the player and Atletico Madrid is trying to take back the option," said Koeman.
"In our knowledge this was too late and what happened with Tottenham in the middle, I don't know.
"The player told us he was very happy here. I believe he will continue at Southampton."