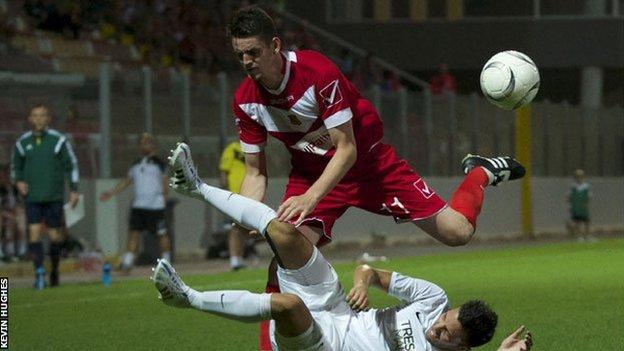 Newtown overcame Valletta to earn a Europa League second-round tie against FC Copenhagen.
The Welsh Premier League club took a 2-1 lead into the first-round second-leg game and made the most of the pressure on the hosts.
Jason Oswell repeated his first-leg scoring efforts in Malta.
And after Thierry Fidjeu-Tazemeta levelled, Matty Owen sealed victory by scoring after his late penalty was saved.
Both teams finished with 10 men, the hosts' Ryan Camilleri seeing red first for his late challenge on Shane Sutton.
The Robins' Matthew Cook followed Camilleri to the sidelines three minutes from the end.
Craig Williams's cross gave Oswell the chance to give Newtown the confidence boost of a crucial opening away goal.
Juan Gill's foul on Oswell to earn Newtown a penalty and after Owen's shot was halted, he made the most of his second chance to herald jubilant scenes among visiting fans and players.