England women's team: FA deletes 'unfortunate' tweet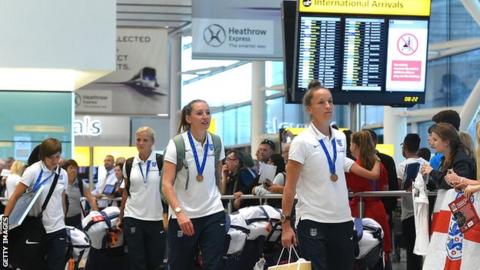 The Football Association has deleted an "unfortunate" social media post in which it said England's women's team were "going back to being mothers" after returning from the World Cup.
The @England Twitter post read: "Our #Lionesses go back to being mothers, partners and daughters today, but they have taken on another title - heroes."
The message was deleted and the same wording in an online story was changed.
An FA source told the Press Association it had been "unfortunately phrased".
In statement, the FA added: "The full story was a wider homecoming feature attempting to reflect the many personal stories within the playing squad as has been told throughout the course of the tournament.
"However, we understand that an element of the story appears to have been taken out of context and the opening paragraph was subsequently revised to reflect that fact."
The author of the online article, James Callow, said he rejected "any accusation of sexism".
"The piece is intended to sum up a nice moment when players are reunited with their families," he wrote on his own Twitter account.
"Human interest is a big part of any sports reporting. I'd have done the same for England men, absolutely."
England finished third at the Women's World Cup in Canada after beating Germany 1-0 after extra-time in their final match on Saturday.