Scottish League Cup: SPFL considers first-round rule change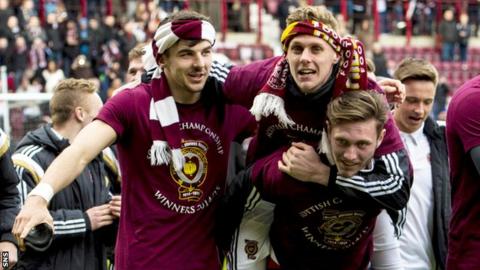 The Scottish Professional Football League is considering changing the rule that forces a club promoted to the Premiership to play in the opening round of the League Cup.
Hearts have been drawn against Arbroath while relegated St Mirren have a bye.
SPFL chief executive Neil Doncaster said: "That is something we inherited from the Scottish Football League.
"But there are plans to look at that and bring it more into line with the other competitions."
That would mean the club relegated to the Championship playing in the first round instead.
Championship winners Hearts will have to switch the date of their tie against Arbroath because their opening Premiership fixture is on the weekend of 1 August.
Doncaster said he also "remains in discussion with several" potential sponsors for the competition.
And he revealed that the SPFL's member clubs have yet to propose a rule change to the ticket arrangements for the end-of-season play-offs.
Both Hibernian and Motherwell slashed the allocation given to Rangers last season after the Ibrox club rejected their plea for extra tickets.
That left thousands of empty seats during the promotion deciders.
The current rules state home teams should welcome a "reasonable number of visiting supporters" but do not outline firm numbers.
It will be up to member clubs, Doncaster confirmed, to propose new guidelines ahead of this month's league annual meeting.
Meanwhile, the chief executive reiterated his belief that world governing body Fifa and European counterpart Uefa would have to loosen their grip on the football calendar before Scotland could seriously examine switching its season to the summer.
A BBC survey last month found that 10 of the Premiership's 12 clubs would consider the move in a bid to entice fans back through turnstiles.
However, Doncaster has warned change will be hard to push through while the world and European governing bodies insist upon exclusive dates for international and Champions League fixtures.
"We need a worldwide solution," he said. "We can't play within certain dates that are restricted by Fifa and Uefa and that makes it very hard to plan your domestic season.
"We are not alone in that, but we do have many more fixtures than a lot of European leagues.
"The fact we have 38 games to fit in, plus all the cup games, means there is not a huge amount of flexibility for us."
Doncaster does believe a winter break during January is achievable.
The Scottish Football Association has set up a working party to examine the feasibility of a shut-down, with early plans to slot it into next season's schedule.
"A winter shut-down is certainly something we would like to see reintroduced, but the problem is simply the sheer amount of fixtures we have to play," he said.
"The natural consequence is a very short close-season because you can't take fixtures out of one month without putting them somewhere else.
"At the moment we are not able to use the midweeks between August and November because of European dates at that time, so our scope to be flexible is very limited."