Rangers are still a big draw for players - David Weir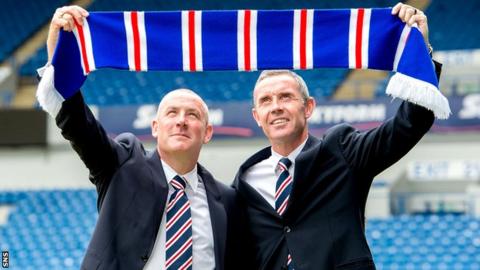 Rangers assistant manager David Weir says the Ibrox club are still a draw for players despite failing to win promotion to the Scottish Premiership.
Eyebrows were raised when Hearts captain Danny Wilson opted to move to Glasgow and spend another season in the Championship.
"They see the infrastructure, they see the stadium, they see the training ground," said Weir.
"Rangers have got a lot of things that people want when they're players."
New manager Mark Warburton is keen to add to a threadbare squad as the new regime seek to improve on last season's third place finish.
Weir though says they will not panic buy despite the first game of the season against Hibernian in the Petrofac Cup just weeks away.
"We've brought players in from good levels, and everybody we've spoken to have been really keen to come here," he added.
"We've brought in some additions, quality additions at that. It's important we get players in to help that group that's already here.
"We want good players and good players will have many options. It's difficult, but it's maybe better to miss out on some players if you're not sure than jump in and maybe regret it later."
One handicap Warburton and Weir are working with is the lack of a scouting system, something which they admit has to change if the club are to progress.
"It's a fundamental part of a football club and it's a big part that Rangers have probably lacked," explained Weir.
"It's been well documented that the scouting structure hasn't been as thorough as it needs to be.
"My experience is the best clubs have the best scouting structures. It's something over a period of time the club need to put in place."
The club have also yet to decide on a new club captain, with Weir revealing Lee McCulloch will not be returning to the club either as a player or in a coaching capacity.
Weir, a former club captain himself, said: "We've had discussions but nothing has been confirmed there.
"It's obviously an important appointment, especially at a football club like this. It's something that's got to be taken seriously."
One man who could be in the frame for that role is Wilson, who said it would be a "great honour" to be given the armband.
Wilson said: "I've been captain before and I know as captain you need players around you that will help you. Whoever the captain is I'll make sure I'm there to support them."