Premier League: Swansea City agree to subsidise away tickets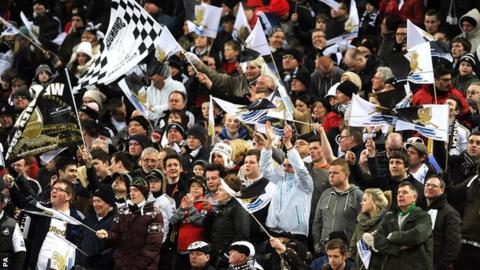 Swansea City fans will pay no more than £22 for an away ticket in the 2015-2016 Premier League season.
The Swans have pledged that tickets purchased through its membership scheme will be subsidised.
With adult tickets at some grounds costing in excess of £50, the club said the subsidy would amount to a £300,000 saving for fans during the season.
"We are well aware of how expensive it is to follow the team to away games,'' Swans director Huw Cooze said.
"An adult can now watch every one of our away games in the Premier League for a total price of £418.
"That's more than £250 cheaper per adult than the amount we believe it would be otherwise."
A recent BBC Sport study discovered Swansea fans travelled further than any other during the 2014-2015 Premier League season, clocking up 4,129 miles at an average of 217 miles per trip.