Guernsey football league looks for more volunteers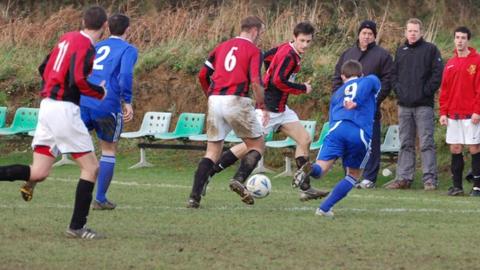 The body that organises Guernsey's football league is looking for more people to help run it.
The League Management Committee (LMC) wants new blood after one of its stalwarts, Garry Cortez, decided to leave his role with the body.
"We've drafted a new constitution for the LMC, we have decided that we need to share the workload," committee chairman Brian Horsepool said.
The LMC is responsible for organising domestic football in Guernsey.
This includes the island's top division, the Priaulx League, but they are not involved with Guernsey FC, who play in the English Isthmian League Division One South.
"The LMC, as it stands right now, has reduced to effectively just two people, myself and Andy Robert," Horsepool added to BBC Radio Guernsey, ahead of a meeting of clubs on 27 July.
"We're looking for new people, we're hoping come 27 July volunteers will be coming forward from the clubs.
"We're also looking for an independent chairman of the LMC, someone who's not as closely connected as Andy and I are, so that he can bring some discipline to it if you like."
Horsepool also paid tribute to Cortez, who along with his role as president of played a key role in running the island's league system.
"For the last few years he's been the cornerstone as league fixtures secretary and administration secretary for the Guernsey FA and the liaison between the GFA and league management committee.
"He's the man on the phone for postponements, rearrangements, games called off, disciplinary matters, referee issues, you name it, Garry has been the coordinator, so he will be missed.
"As a friend and a colleague, everyone knows Garry, he's the walking encyclopaedia of Guernsey football."