Hereford FC: Bulls fans 'United' once more at Edgar Street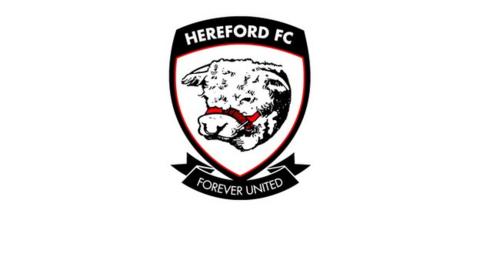 Hereford FC expect to play in front of a capacity 5,000 Edgar Street crowd in this Saturday's first home friendly against FC United of Manchester.
A month before the reformed Bulls are due to kick off their first season in the ninth tier, the 'Phoenix Club' will play English football's foremost 'Protest Club' (11 July, 15:00 BST).
"They've been a big help to us," said Bulls media officer Jamie Griffiths.
"It's certainly fitting that we should play them in our first home game."
Griffiths told BBC Sport: "One of our directors went up to see them and they've given us a lot of advice and support."
Formed in the wake of financially ravaged Hereford United's final collapse in the London Royal Courts of Justice last December, the new Bulls made their first appearance in front of a crowd of 2,006 at Malvern Town on Tuesday night when Sam Pearson, Joel Edwards and Dale Hodge scored their goals.
The new Bulls will be 'Forever United'
Hereford's new club badge - cleverly incorporating the motto 'Forever United' - was designed by fans. More than 89 per cent of the votes cast by the Hereford United Supporters Trust favoured the design created by Bulls regulars Huw Marriott and his sons Max (11) and Louis (9).
Now the near 5,000 capacity at Edgar Street will be tested to the limit this Saturday by the visit of National League North outfit FC United, the first and most celebrated of several offshoot clubs formed in protest at changes taking place at clubs and in the professional game.
"They're bringing 600 fans," said Griffiths. "And we've now sold 3,400 tickets. We expect to reach our capacity, which is now just below 5,000."
Hereford will start their new life in the Midland League, in the ninth tier of English football, under Peter Beadle, their last manager from the old Hereford United days.
"We know Chester got back to the Conference Premier in three years and Halifax did it quickly too," added Griffiths. "But the most optimistic estimates are that we could do it in five years, and maybe league football again in 10 years would be a target."