Prince William, Wimbledon and PM: England's royal treatment
Last updated on .From the section Women's Football
It is the ultimate London tourist trail - croissants with the Duke of Cambridge, coffee with Prime Minister David Cameron and a visit to Centre Court at Wimbledon.
The squad, with manager Mark Sampson, landed back at Heathrow on Monday and were greeted by family and fans after their summer exploits showcased women's football to a whole new audience.
Up to 2.5 million people watched each game and 11.9 million saw some part of their journey to third place. So it was time to lap up some attention and, on a day to remember, one player even fitted in some mild stalking of David Beckham.
When one selfie isn't enough...
Karen Carney could be forgiven for not being overly excited about ending the day at Wimbledon - she was, after all, once a ball girl there.
It may have been women's semi-final day. It may even have been a day with her tight-knit team-mates but Carney found a way to make a memorable outing even more so.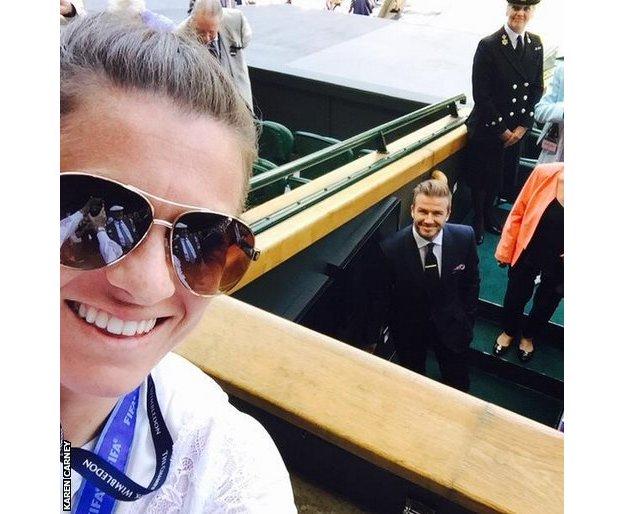 Her selfie from a distance with former England captain David Beckham raised a smile but being the competitive, driven sportswoman she is, Carney wanted more.
And she got it.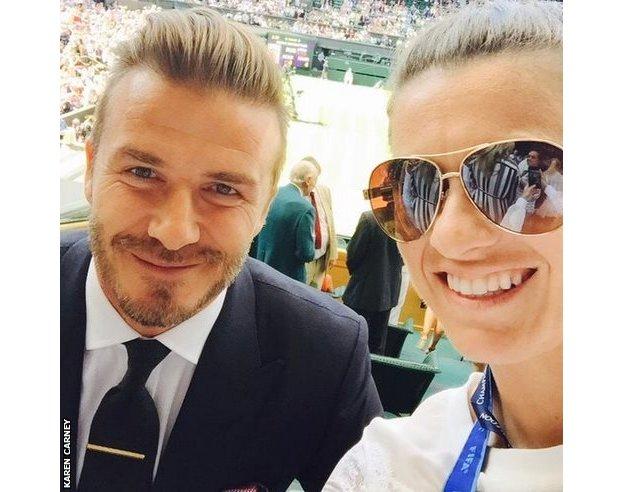 "OK I can go home now ," she tweeted. "Just met my hero and made my day."
Was White dreaming about the croissants?
The Lionesses were about to live the day of dreams but maybe the early pick-up was the stuff of nightmares.
Or perhaps the stresses and strains of being the nation's new favourite sports team are taking their toll.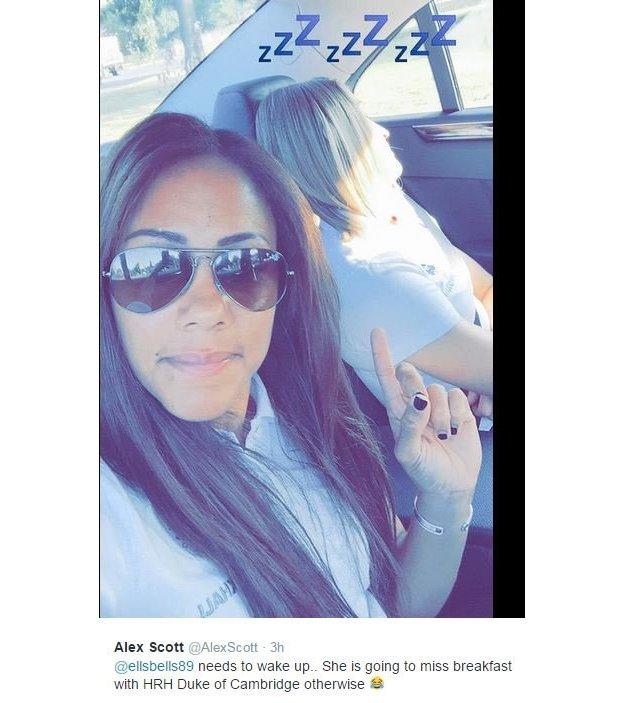 Excitement builds
Understatement of the year award for Casey Stoney.

Show us your medals
Not many people can back up the use of some emojis in a tweet with an image of their own World Cup medal.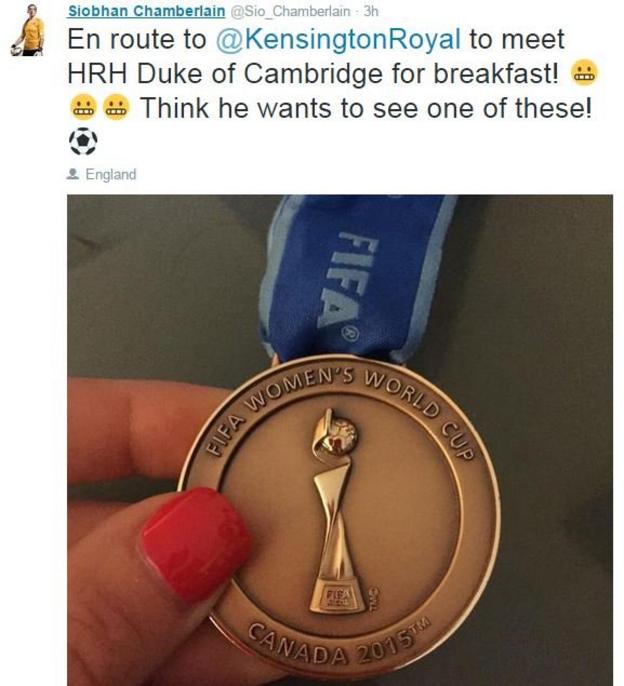 Selfie overdrive
Prince William "closely followed" England's games in Canada. He was probably still awake doing the night feeds for Princess Charlotte.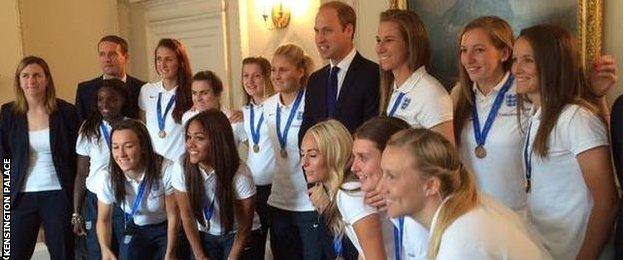 Tracksuits and trainers for a royal engagement? You wouldn't catch David Beckham in his casuals.
"We met the Prince just before we went to the World Cup and seeing him again was almost like catching up with an old friend," explained striker Eniola Aluko.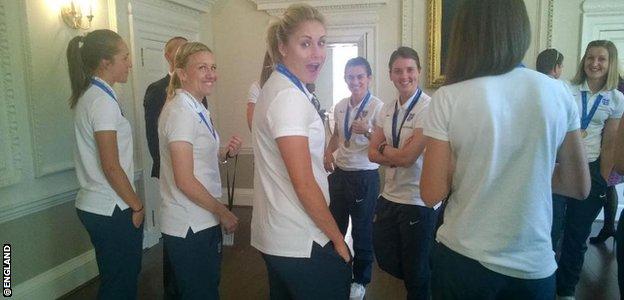 Meanwhile, while Prince William isn't looking...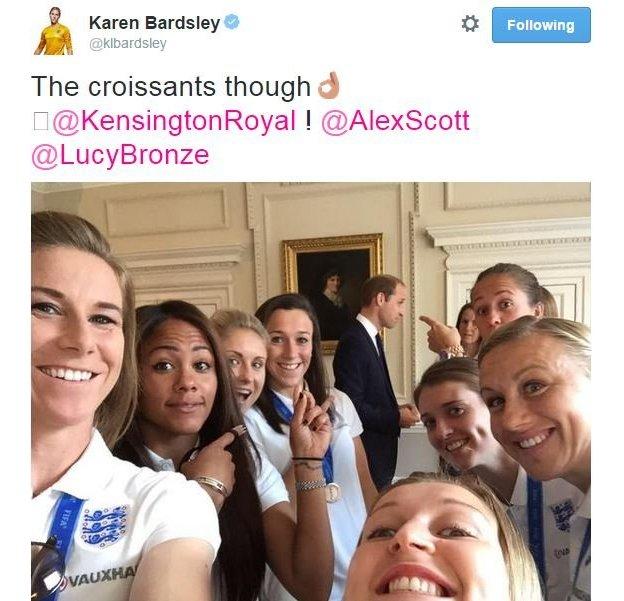 Look, real grass
The World Cup was played on artificial turf in Canada, but the team found themselves on the sun-scorched lawns of Kensington Palace where they played some games with pupils from Essendine School and Jubilee School.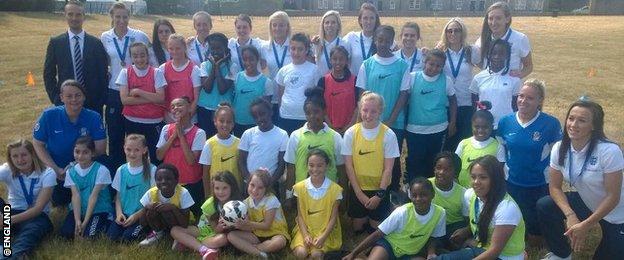 Time to go
"Thanks for coming over for breakfast England Lionesses and congratulations again on an amazing tournament," read a Kensington Palace tweet.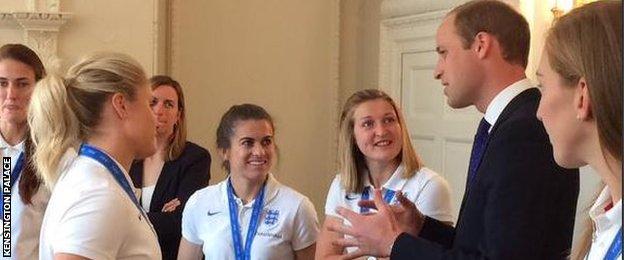 Can we have a wave Dave?
Chauffeurs, a posh bus around London, croissants, royalty and a quick game of knock and run in Downing Street?
Not quite. David Cameron knew the Lionesses were coming and tweeted it was "great" to meet the team "who played so well".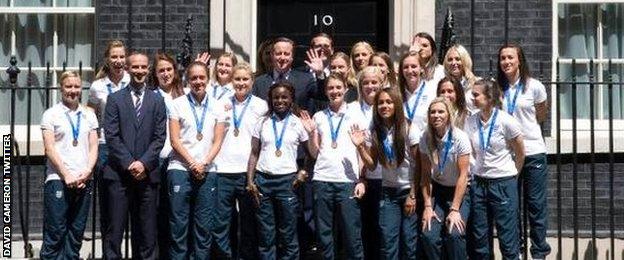 Sun shines on historic team
Much like their campaign in Canada, the tour of London was a whirlwind but its climax at the All England Club provided time at least for one last team photo.
Each and every one of them played a role as the nation watched the best performance of any English football team since 1966.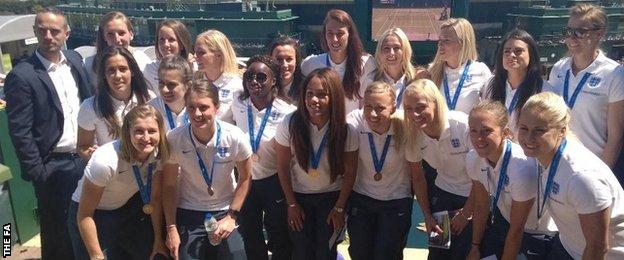 The last word goes to the captain. Steph Houghton said: "It's been unbelievable. I didn't expect the media coverage or support and we're thankful for that in squad. It's been overwhelming.
"Over 15 million people watched our games. It's unbelievable that people stayed up. To come away with bronze and to beat Germany, we couldn't have asked for more.
"We need to go back to club football now and I hope the fans that watched us come out and support the teams we play for every week."