Danielle Gibbons: Liverpool Ladies keeper has tumour removed
Last updated on .From the section Women's Football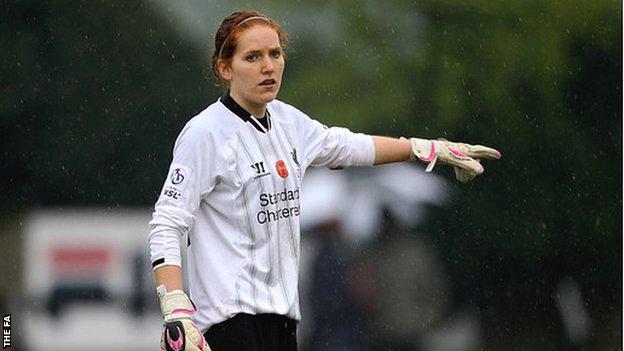 Liverpool Ladies keeper Danielle Gibbons has undergone surgery to remove a benign brain tumour.
The 22-year-old was diagnosed with acoustic neuroma in January and was successfully operated on this week.
Reigning Women's Super League champions Liverpool say Gibbons plans to return to football before the team's Champions League campaign in October.
Boss Matt Beard wished the former England Under-19 player a quick recovery on the club's website.
"Both myself and the players have known about Danielle's tumour for a while but have kept it to ourselves at the request of Danielle and her family," he said.
"As a club, we are ensuring that Danielle gets the support she needs and we look forward to her making a speedy recovery and returning to the team."
England head coach Mark Sampson also tweeted his "best wishes" to the player.