Phoenix from the flames: How do you resurrect a football club?
Last updated on .From the section Football
The lower reaches of English football are littered with clubs reborn from the ashes of previous incarnations.
Maidstone, Bradford Park Avenue, Scarborough, Halifax, Chester, Darlington and Rushden & Diamonds are among those to have risen, phoenix-like, from the flames of their earlier demise.
Hereford - responsible for one of the great FA Cup giant-killing acts, but wound up last December - are the latest former Football League club to begin the journey back from oblivion.
Five months after they set alarm bells ringing - literally - when they were handed the keys to their ground, Hereford return home to Edgar Street on Saturday with a pre-season friendly against celebrated fan-owned non-league outfit FC United of Manchester.
So how - and why - is a club that has gone bust resurrected? Invariably, it appears not so much an attempt to recapture former glories as preserve the name to which so many personal memories are attached.
Key figures from five 'phoenix' clubs - Chester, Maidstone, Hereford, Bradford Park Avenue and Darlington - recall how they returned to the football map, with stories of multiple heart attacks, the Beatles, managers appointed in the pub, the Mormon Church, dynamite and dangerous driving.
The day a club 'dies' - despair and bad driving
Hereford were relegated to the Conference for a second time in 2009. An undesirable owner created the storm that led to a mass supporter boycott. They were expelled from the Conference in June 2014 because of their financial problems before a storied history was ended by a High Court judge last December.
"The lowest point was when the club was wound up," says John Hale, chairman of the new Hereford FC. "For all that had been going on, it is very difficult to see the club you have supported all your life go out of existence."
Darlington paid a heavy price for a £25m stadium, the 25,000-capacity Reynolds Arena built by their colourful former chairman George Reynolds. After it opened in 2003, the club's average attendance remained about 2,000, and the stadium became a white elephant the club could not afford.
The Conference outfit were placed into administration in December 2011 before being relegated four divisions - to Northern League Division One - on the recommendation of the Football Association.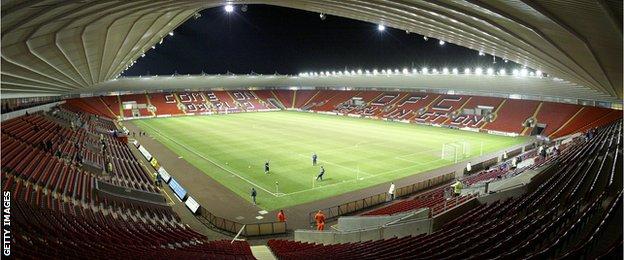 "The feeling when we were told what was going to happen was one of despair," says Denis Pinnegar, who took over as chairman in April 2012. "We had raised £200,000 to pay off all our football creditors.
"I didn't find out what league it meant until a journalist told me as I was driving north. I was incredulous. I took so many calls on the way home and got so upset my wife ordered me to pull over at Watford Gap services because she feared for her life. Sat there, I realised how erratically I had been driving. I could have had a pretty bad accident.
"But I was speaking to people whose families had been involved with the club for generations, who had done nothing wrong, and having to tell them their club did not exist any more. It really was awful. I had made people redundant in business. That is tough. But this was immeasurably worse."
A decision by Maidstone United to spend £400,000 on a plot of land for a new stadium, without first getting planning consent, created the conditions that eventually resulted in the club going bust in 1992. They remain the last Football League club to go out of business.
"When the owner told me we had major problems, my stomach turned over," says Paul Bowden-Brown, a local businessman and head of the supporters' club, who ended up spending 20 years as club chairman.
"It turned out my son was the last player to sign as an apprentice. Maidstone United cost me a lot of money and three heart attacks."
Starting over again - amber to green
Bradford Park Avenue were a relic from another age. Liquidated in 1974, the name continued as a Sunday League club until 1988, when Rob Robinson - a boyhood fan living in the East Midlands - set about resurrecting a club that lost its Football League status in 1970.
"I lost my dad in 1970," says Robinson. "I lost my football club and I lost my favourite band as the Beatles split up. It gnawed away at me. In the end, I decided that if I couldn't do anything about two of them, I would try to do something about the third.
"Former England striker Kevin Hector agreed to get on board and I got word out that we intended to relaunch the club. Fifty or 60 people attended a public meeting. I was interviewed by a TV crew who asked how things were going. I replied: 'Brilliant.' At that point we had no players, no manager and no ground."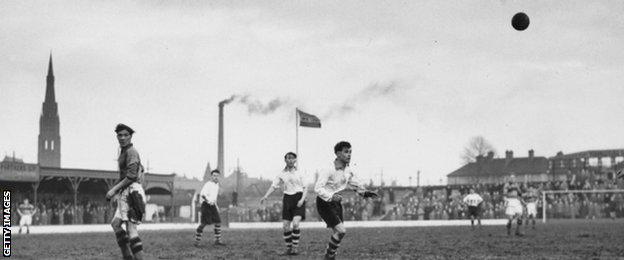 Two weeks after they were relegated to the Conference in 2009, Chester City were placed in administration. In February 2010, they failed to fulfil a fixture at Forest Green Rovers and were suspended by the league before being wound up in March.
"The players weren't getting paid and the club got its worst-ever attendance of 480. It all ended when we were supposed to be playing an away game and the players refused to get on the bus," says Jeff Banks, a member of the board when the club was reformed as Chester FC the same month.
"We had been planning for it. We had to prove to the FA we weren't just a bunch of romantics. We weren't fearful. It was like sitting for ages at an amber light. On 10 March, the day the club was wound up, the light turned from amber to green."
Move or go home? Mormons and mouldy bread
"Maidstone owed the Mormon Church £27,000 for the training pitch I wanted to use as our home ground," says former chairman Bowden-Smith. "They offered me a five-year lease for £12,000. I didn't know where I was going to get £12,000 from - but I agreed.
"I paid the liquidator for the kit, balls, minibus and other essential equipment myself. At that point I didn't know if we would be voted into a local league because there had been some hostility."
For Chester, negotiations with the council over a lease for their Deva Stadium "seemed quite smooth until these Danish guys turned up saying they wanted to buy Chester because it was where former Liverpool striker Ian Rush came from," recalls Banks.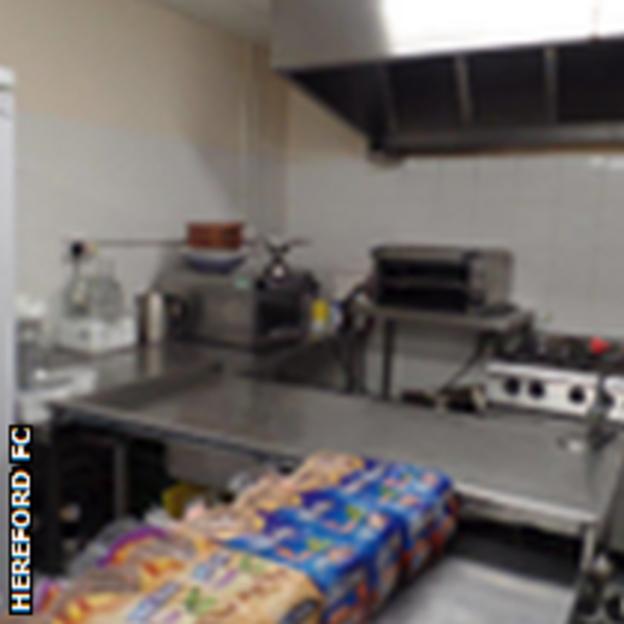 "I wouldn't say it got nasty but we had to maintain our focus to make sure the council knew our bid was the right one. They did. But the only thing they left us were the carpets."
Hereford fans, meanwhile, were allowed to return home three months after the club was wound up.
"We walked from our lawyer's offices to Hereford Council, expecting to be handed a set of keys," says Hale. "Instead I was presented with what looked like a 10-year-old ice-cream tub with about 150 keys in it, and no guide as to what they were all for.
"There are two entrances, one of which led through to another area that had some roll bars pulled down. When we raised them, we set the burglar alarm off - and we didn't have the code. For half an hour, the ground was ringing. Maybe it was a warning of what was to come."
The three-month-old bread stacked up in the kitchen proved to be the least of their concerns.
"We thought it would cost between £50,000 and £60,000 to bring the stadium up to the required level for the health and safety certificate," Hale adds. "It ended up being between £120,000 and £130,000. We have had to put right problems that had been building for 20 years."
New surroundings… and new 'signings'
Bradford Park Avenue were not universally welcomed back, forcing them into a nomadic existence.
"We relaunched into the West Riding Amateur Third Division, then went into the Central Midlands League, then the North West Counties as the North East Counties refused to have us, all within the first three or four years," recalls Robinson.
"In the meantime, we moved around from little more than a park pitch at Manningham Mills that we paid £500 for, to groundsharing with Batley rugby league club and then Bramley.
"The deal with Bramley involved us changing the posts. It turned out the rugby posts were buried so deep in the ground the only way to get them out was to blow them out with dynamite."
Darlington found their status as a former Football League club a mixed blessing. "Because of our proximity to the clubs we were playing against, we would have 1,500 fans turning up to a ground that tended to play host to 100 on a good day," recalls Pinnegar. "Some clubs doubled their entrance fee, which was a bit harsh. But most welcomed us with open arms."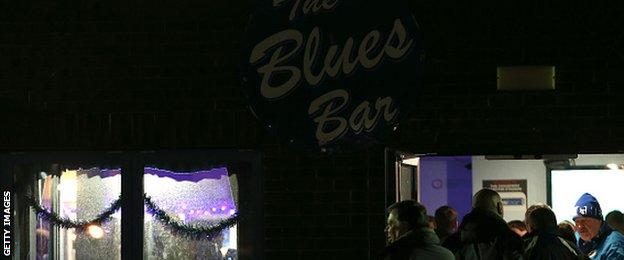 Chester FC's first pre-season game after being relegated three divisions arrived four months after the old club had folded, and two months after the birth of the new one.
"It was on 10 July at Colwyn Bay," says Banks. "It was a mammoth task. There were mad things like broadcaster Colin Murray offering us £2,000 if we would name former Everton and Chelsea winger Pat Nevin and ex-Arsenal forward Perry Groves on the bench. We got them properly signed on and did it. That kind of exposure was invaluable."
Hiring and firing - bad for your health
Former Maidstone chairman Bowden-Brown, a qualified accountant who had run businesses in the Middle East for 15 years, found running a football club a steep learning curve, and a stressful one.
"Due to the way we were playing in one game, I sacked the manager and appointed a new one in the pub afterwards," he says. "On another occasion our manager was so ill, I had to do the job, in addition to being the physio.
"I suffered three heart attacks. After the last I was taken to the Somerfield Hospital, about half a mile from the ground. I arranged for our manager, Graham Martin, to take me out of the hospital in a wheelchair and push me to the ground. I watched the match attached to a drip.
"I was taken back to the hospital but as I got through the door the nurses caught me out and duly gave me a rollicking!"
Robinson also found himself thrown in at the deep end with Bradford Park Avenue.
"I was completely naive about what I was taking on but felt strongly we had to generate some momentum in that first season. We started OK but about five or six matches in we lost a cup tie, then a league game - and I sacked the manager, and brought another one in, plus five new players."
And the rest is history?
| Club | Highest position | Demise date/League | Current name/League |
| --- | --- | --- | --- |
| Darlington | 15th in old Second Division, 1925-26 | Administration in Dec 2011, Football Conference | Darlington 1883, Northern Premier League Premier Division (tier seven). |
| Bradford Park Avenue | 9th in old First Division, 1914-15 | 3 May 1974, Northern Premier League | Bradford Park Avenue, National League North (tier six) |
| Chester City | 2nd in Division 3 North, 1935-36 | 10 March 2010, Football Conference | Chester FC, Football Conference (tier Five) |
| Hereford United | 22nd, old Second Division, 1976-77 | 19 December 2014, Southern League (tier seven) | Hereford FC, Midland Central League (tier nine) |
| Maidstone United | 5th in old Fourth Division, 1989-90 | 17 August 1992, Fourth Division | Maidstone United, National League South (tier six) |
Hereford may be five leagues below their former status as they begin life in the Midland Central League, but the optimism has returned to a proud and famous club.
"We have sold 1,000 season tickets," says chairman Hale. "We are hoping for about 3,500 for the FC United match, which would be our biggest crowd since an FA Cup tie against Cheltenham in December 2012.
"In the darkest times, there was a fear we would never get the club back. Now we are back, at Edgar Street, with a team wearing white shirts and black shorts. It is irrelevant what level we are at, people are embracing it."
Robinson's enthusiasm for Bradford Park Avenue will not dwindle, but he feels he has done his bit.
"I have taken a back seat now but the club has just been taken over by a US oil billionaire, Gareth Roberts, who hails from Bradford, who I know will look after it."
Not all rescue acts end happily, though. At least not for Bowden-Brown at Maidstone.
"I am proud of what I achieved," he says. "I believe I saved the club. I also found the ground where they play today. Unfortunately, I ran out of money so could not finish the job of building it."
Bowden-Brown says he was left with a "bad taste" after being banned from the club for life following a dispute with his successors.
"Now I am chairman at Thamesmead Town in the Isthmian League Division One North. We are playing in a £6m stadium and I am trying to grow the club to an acceptable level supported by the community. It is quite a task but I love football - and I have a very understanding wife."
Edited by Bryn Palmer.