Scottish Cup: David Moyes makes history for amateurs
Last updated on .From the section Football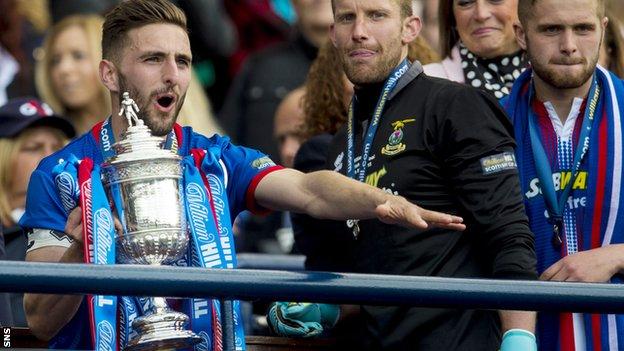 Real Sociedad boss David Moyes created history when making the draw for the Scottish Cup preliminary rounds.
The winners of the Scottish Amateur Cup and the East of Scotland and South of Scotland leagues were given entry to the senior trophy for the first time.
Amateur Cup winners Harestanes will host Ayrshire District League side Girvan in the first preliminary round.
South winners Wigtown & Bladnoch host Vale of Leithen. Lothian Thistle host Harestanes or Girvan in the second.
Vale of Leithen were the only Scottish Lowland League team involved in the draw, while Cove Rangers, who will travel to face North Caledonian Football League champions Golspie Sutherland at the first stage, were the only Highland League team.
The second preliminary round matches-up two junior title winners, with North Super League champions Hermes hosting Auchinleck Talbot, who won the West Super League and the Scottish Junior Cup.
East Super League champions Kelty Hearts will have to wait to find out if they travel to face East of Scotland League side Civil Service Strollers or South of Scotland League runners-up Newton Stewart.
Other Highland League and Lowland League clubs enter the competition in the first round, with the winners and runners-up from each having byes until round two, when Scottish League Two sides are also involved.
Inverness Caledonian Thistle are the Scottish Cup holders, having lifted the trophy for the first time after beating Falkirk 2-1 in the final at Hampden Park in May.
Scottish Cup, first preliminary round draw
Civil Service Strollers v Newtown Stewart
Harestanes v Girvan
St Cuthbert Wanderers v Burntisland Shipyard
Golspie Sutherland v Cove Rangers
Wigtown & Bladnoch v Vale of Leithen
Ties to be played on Saturday 15 August
Scottish Cup, second preliminary round draw
Civil Service Strollers or Newton Stewart v Kelty Hearts
Hermes v Auchinleck Talbot
Wigtown & Bladnoch/Vale of Leithen v Hawick Royal Albert
Lothian Thistle v Harestanes or Girvan
Golspie Sutherland/Cove Rangers v St Cuthbert Wanderers/Burntisland Shipyard
Ties to be played on Saturday 5 September