Bastian Schweinsteiger: Man Utd are taking a 'gamble'
Last updated on .From the section Football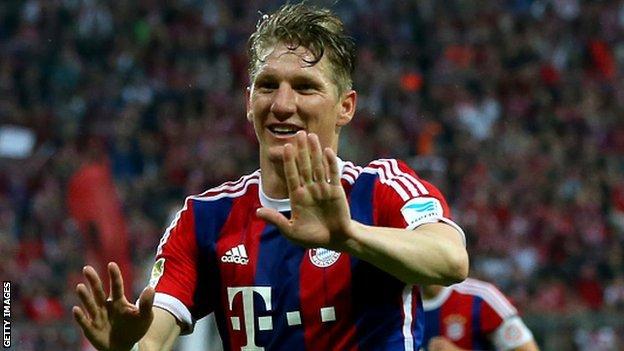 World Cup winner Bastian Schweinsteiger is set to join Manchester United after a glittering trophy-filled career at Bayern Munich.
So what can United fans expect? Are they getting a World Cup winner in his prime? Will he help propel Louis van Gaal's side to their first Premier League title since 2013?
Bundesliga football writer Mark Lovell tells BBC Sport why he believes United's move for Schweinsteiger is a "risky" deal.
What was he like at Bayern Munich last season?
Schweinsteiger was injured after helping Germany win the World Cup last summer and did not make his first Bundesliga appearance until 22 November. Bayern were unbeaten until that point, both domestically and in Europe, so there was no need for manager Pep Guardiola to rush him back.
Schweinsteiger by numbers
111 caps and 23 goals for Germany
Won eight Bundesliga titles, seven German Cups, a Champions League title, and the 2014 World Cup
Has made 342 Bundesliga appearances for Bayern Munich, the second highest after Stefan Kiessling who made 345
Only made 20 Bundesliga appearances last season, the lowest since his debut season of 2002-03, when he played 14 games
When he was fit he failed to dislodge Xabi Alonso from the defensive midfield holding role and continued to fall down Guardiola's pecking order.
In the end, he started only 15 of Bayern's 34 league games.
Why are Bayern letting him go?
It might seem a bold move for Bayern to allow the captain of the world champions to leave but, certainly on last season's evidence, he will not be a huge loss. Indeed, most of Bayern's hierarchy will be happy to get some money for Schweinsteiger although chairman Karl-Heinz Rummenigge has described his impending departure as "regrettable because Bastian meant a great deal to the club".
Former Liverpool midfielder Alonso did more than a capable job last season when Schweinsteiger was injured and when it came to a straight choice between the pair, Guardiola more often than not plumped for Alonso, who is three years older than his team-mate.
Also, Bayern are allowing someone to leave who has not had a reasonable injury-free run since the 2010-11 season.
Is there a question mark over his fitness?
Schweinsteiger has suffered a series of knee and ankle problems recently. Will he be able to play week in, week out? One thing is for sure, he will certainly require a lot of care at Old Trafford.
While it is wrong to say Schweinsteiger is over the hill, I do not think it is unfair to suggest that he has seen better days.
If he is fit to play over 30 Premier League games, I would be amazed. That is why I think it is a risky deal.
Where will he fit into the Manchester United team?
There is no great surprise in Germany that Schweinsteiger is heading for Old Trafford. He has played under Louis van Gaal before and, along with Thomas Muller, has been linked with a move to Manchester United since last season.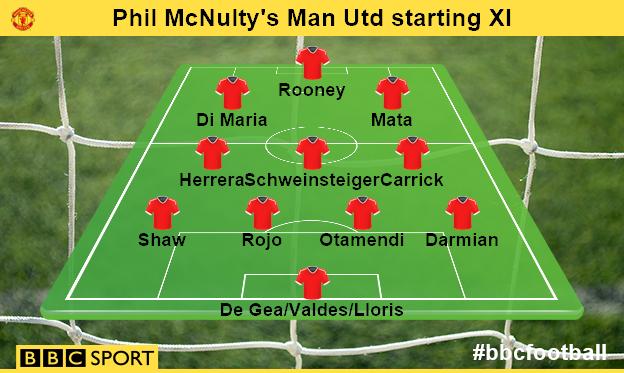 He has been a one-club man until now, and there has been a feeling that when the time came for him to move on, United would be one of his likely destinations.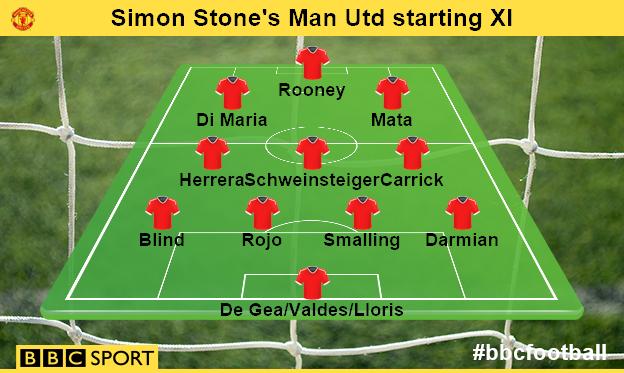 He will hope to have a clean run of injuries so he can make an impact in a deep lying midfield position - a role in which Michael Carrick has excelled.
What impact will he make at Old Trafford?
Germany coach Joachim Low has been quoted as saying that Schweinsteiger's new challenge at United "will do him good". Let us not forget, United are investing in a player who has won eight Bundesliga titles, seven German Cups and one Champions League. He has also appeared in three World Cups.
Bundesliga record (last five seasons)

Season

Appearances

Starts

Goals

Assists

2014-15

20

15

5

4

2013-14

23

22

4

4

2012-13

28

27

7

3

2011-12

22

18

3

3

2010-11

32

31

4

7
If he had retired from international football like Philipp Lahm and Per Mertesacker, I would say he would have a better chance of coping with the intensity, pace and the sheer number of games in English football. But no, he is Germany skipper ahead of Euro 2016. He will have to be very carefully managed.
Will the Premier League suit him?
Schweinsteiger is used to a winter break. He has not played domestic football outside Germany before and it remains to be seen whether he can adapt. Radamel Falcao arrived at Old Trafford to huge fanfare last season but failed to make the impact many predicted he would.
Schweinsteiger is good in the air and brings with him superb experience. One thing is for sure, United will have an army of new followers from Germany. Whether or not he is past his best, Schweinsteiger is still a hero in Germany.
How have Bayern fans reacted to Schweinsteiger's imminent departure?
Many Bayern fans are unhappy. They are losing a player who has served the club for 17 years after signing as a youth team player in 1998. Guardiola has been in charge for two years and in that time has brought in a number of Spanish players with varying degrees of success.
How Twitter has reacted