New tests await Sierra Leone's David Simbo in Saudi Arabia
By Mohamed Fajah Barrie
BBC Sport, Freetown
Last updated on .From the section Football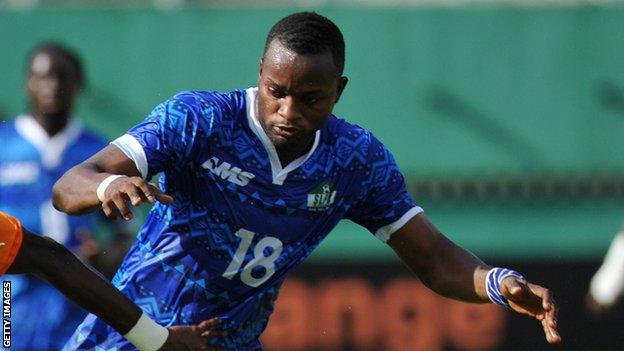 Sierra Leone international David Simbo says he is ready for the new challenges ahead after moving to Saudi Arabia.
The 25-year-old defender has signed an 18-month deal with top-flight side Narjan SC, moving from Al Hilal in Sudan.
Having played in Europe and Africa Simbo wants to experience another style of football.
"It's time for me to move on to Asia to see the style of play there," Simbo told BBC Sport.
"I've seen the European style of play as I played in Sweden for almost four years and I played in Africa in Sudan for the last two years which I'm proud of, so it's time to see other parts of the world."
Born-again Christian Simbo insists playing in a strict Islamic state with little religious freedom is not an issue.
"I'm in Saudi Arabia to play football and I'll focus on it. I want to give my best and help Najran win trophies," he said.
"I'm not bothered about being a Christian playing in an Islamic country - I believe there is only one God be you Muslim or Christian.
"What matters is what is in your heart and what you do.
"I'll honour the laws of the land. I respect the holy month of Ramadan and if the opportunity comes to visit the holy mosque in Mecca I'll take it."
Simbo is not the first Sierra Leone international to play in Saudi Arabia, former Inter Milan and Monaco striker Mohamed Kallon is one of several others to have spent time there.
After beginning his career with Sierra Leone side Mighty Blackpool, Simbo moved to Sudan, where he won the league last season.
He is the latest Leone star to secure an international move - Alfred Sankoh joined Turkish club Balikesirpor from Azerbaijan's Khazer Lankaran while Mohamed Kamara has returned to Bolton Wanders after a loan spell with Israeli side Maccabi Haifa.