Raheem Sterling: Man City get their man but questions remain
By Mandeep Sanghera & Gary Rose
BBC Sport
Last updated on .From the section Football
One of the summer's long-running transfer sagas has come to an end with Raheem Sterling joining Manchester City from Liverpool for a deal worth up to £49m.
Will fans at the Etihad take to the 20-year-old Londoner after his very public exit strategy?
And how will the most expensive English footballer in history fit into a forward line already boasting Sergio Aguero, Wilfried Bony, Edin Dzeko, Samir Nasri, Jesus Navas and David Silva.
The deal
Manchester City will pay £44m for Sterling and that could rise to £49m based on his success at the club. He has signed a five-year deal and joins the squad on their pre-season tour.
City first bid £25m plus add-ons before upping that to a £35.5m offer which would have risen to £40m.
The Reds were holding out for £50m, but they signed Sterling from QPR as a 15-year-old in February 2010 and will have to pay the Loftus Road club 20% of the fee.
"From Liverpool's point of view it's a great fee and credit to [owners] FSG who have shown great strength in these situations since they came to the club, which sends a message to other clubs and current players," said former Liverpool defender Jamie Carragher.
"Surely in the future though they will want to halt the exodus of Liverpool's top players moving on."
Where will he play?
English players have not had the most game time at Manchester City - keeper Joe Hart aside - in recent seasons. James Milner, Micah Richards, Jack Rodwell and Scott Sinclair have all moved on in search of regular first-team football.
On top of that, Sterling will be competing with Nasri, Navas and Silva to play on the wings or just behind one or two strikers.
However, Sterling has age on his side as Spaniards Silva and Navas are both 29, while France international Nasri is 28.
"He'll be excited to show what he can do," ex-Liverpool left-back Stephen Warnock told BBC Radio 5 live. "When he's around the class of Sergio Aguero and people like that then, hopefully, that will bring out the best in him.
"His best time was when he was playing with Luis Suarez. I think it will be a similar thing at Man City."
But former Manchester City captain Rodney Marsh believes it is a "big step up" for Sterling and says manager Manuel Pellegrini will start him on the bench.
"The way City are lining up at the moment, Sergio Aguero is the anchor of the team," said Marsh. "So I can't see Sterling playing in a role that would affect that. With Yaya Toure and David Silva in the supporting positions he is probably going to be a wide player.
"I would not think he would be an automatic starter unless something remarkable happens in pre-season.
"I can't see him breaking straight into the line-up. I would have thought he would start with the reliables, with Sterling and Wilfried Bony on the bench."
Value for money?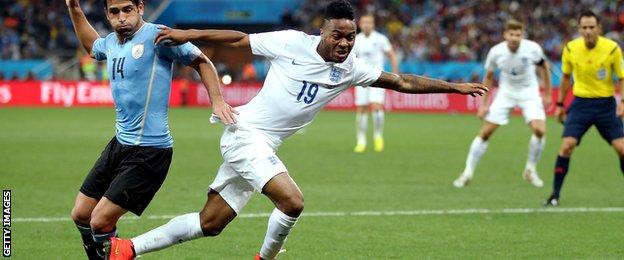 The move to Manchester City makes Sterling the most expensive English player ever.
"The price is not something Raheem can control and the debate will rage about whether he's worth it or not but the price is more to do with nationality and potential, what he can become rather than what he is right now," said Carragher.
"But if he can take Man City to more titles and get close to Champions League success they'll deem it worth it."
Sterling was a rare positive for England at a dismal 2014 World Cup in Brazil.
However, he struggled towards the end of last season, scoring just once in his last 15 Liverpool appearances after rejecting a new £100,000-a-week deal and told Reds boss Brendan Rodgers he wanted to leave.
"If Sterling is worth £49m then what does that make Aguero?" said Marsh. "Four times that - a £200m player? I guess he is.
"These days, nothing Manchester City does surprises me any more. City can do what they like. They want to get the best players and Sterling is certainly one of the best young players around."
Is he a troublemaker?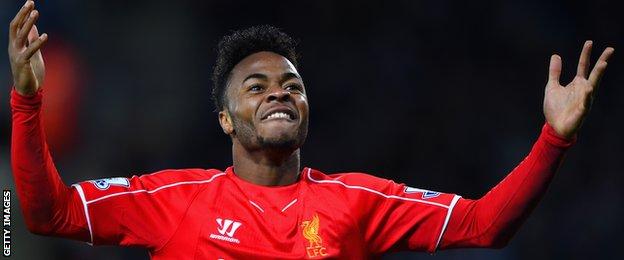 Liverpool were planning to discuss Sterling's future with him and try to change his mind after he told them he wanted out but the club cancelled a meeting after comments from the player's agent Aidy Ward.
Ward was quoted as saying: "He (Sterling) is definitely not signing. He's not signing for £700,000, £800,000, £900,000 a week. He is not signing."
On his return from pre-season, the player asked to be left out of the club's pre-season tour of the Far East and missed two days of training through illness.
Former Reds striker John Aldridge told BBC Radio 5 live that Sterling's game "really suffered".
"He's not come clean early enough, he was using every excuse, he was going from one excuse to another, he was just following what his agent was telling him to get a move," said Aldridge.
"Players are that powerful now that if they want to go they're going to go, but there's a right way and a wrong way to do it isn't there and unfortunately Raheem couldn't think at all for himself and in the end it was forced to happen."
Will he need to win over the fans?
Ex-City striker Carlos Tevez refused to come off the bench during a Champions League match against Bayern Munich, but did return to the first team before being sold to Juventus, while Italy forward Mario Balotelli became an idol for his on and off-field antics.
But Carragher suggested Sterling's behaviour in leaving Liverpool has earned him a reputation that "could be hard to rid himself of in the future".
He asked: "Are Man City fans looking at the situation and thinking this could be us in a few years?"
But Marsh believes supporters will get behind their latest recruit.
"As a former player and captain of Manchester City I know the fans will give him a chance," he said. "They are brilliant, they will love him to start with and give him a chance if he does the business - and if he doesn't do the business they won't."
How good is he?
Raheem Sterling's Premier League statistics

Season

Matches

Goals

Assists

Shots

2014-15

35

7

7

62

2013-14

33

9

5

33

2012-13

24

2

2

23
Liverpool boss Rodgers compared Sterling with Arsenal's Alexis Sanchez last year and has rarely needed much encouragement in praising the youngster.
Spanish giants Real Madrid were even linked with Sterling after their new manager and ex-Reds coach Rafael Benitez said "we admire Raheem, that's no secret".
A recent study also claimed Sterling was the most valuable young player in Europe and worth £35m, although the forward has yet to win a single trophy.
"Raheem Sterling is a very good young player but he has not yet hit the heights of an Owen, Rooney, Fowler or Giggs at this stage of his career so there's no doubt £49m is a great deal for Liverpool," said former Liverpool vice-captain Carragher.
"It's now time for Raheem to do what he does best - play football and show the Premier League the Sterling who was described as 'the best young player in Europe' just over a year ago. You couldn't argue that fact at the time.
"He has the potential to be a star and one of the leading lights in the national team for years to come as we saw in the Italy game at the World Cup in Brazil."
Sterling compared to City players in 2014-15

Sterling

Nasri

Navas

Silva

Toure

Games

35

24

35

32

29

Goals

7

2

0

12

10

Shots

62

16

33

45

64

Accuracy

53%

63%

52%

60%

42%

Assists

7

6

8

7

1

Passes

1,133

1,229

1,338

2,146

2,414

Pass completion

81%

90%

85%

86%

89%

Crosses

81

83

242

62

6

Cross completion

22%

22%

25%

23%

50%

Dribbles

233

37

57

73

68

Dribble completion

44%

73%

65%

70%

75%