Guernsey Sunday Soccer League may fold because of lack of teams
Last updated on .From the section Football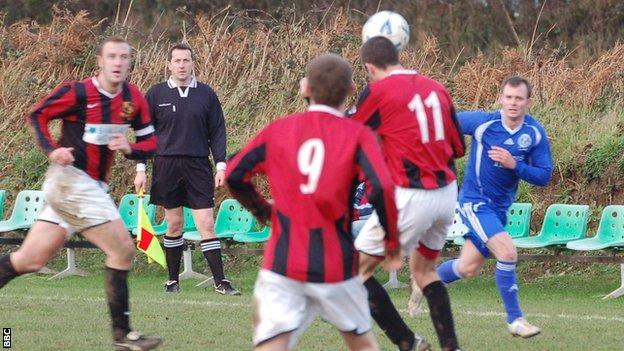 Guernsey's Sunday Soccer League could be forced to close after a team from the island's prison, and the reigning champions, both pulled out.
The league had five teams last season and organisers had been planning for a six-team event in 2015-16 to coincide with the tournament's 50th anniversary.
Champions BW Builders are leaving the competition in order to switch to playing in the Saturday league.
The Prison Lions team have quit for 'internal and external reasons'.
The BBC understands that there has been a drop in interest in playing by prisoners, although inmates will still take part in friendly and charity matches.
League stalwarts Martin and Martin had already announced that they were pulling out at the end of last season.
"We have to face reality and accept that unless we can find new blood in the form of new teams in the next few weeks we will be reluctantly forced to call it a day," said interim league president Nick Mollet.
"We had all heard whispers on the Guernsey grapevine over the past few weeks that BW Builders were considering entering teams in both the Saturday and Sunday Leagues as they thought they had enough strength in depth to cope with both and we fully expected them to defend their title," he added.
'So to suddenly find out they had abandoned those ideas and then for the Prison Lions to pull out has severely scuppered our plans for the season and thrown everything into jeopardy.
"I understand it would not have been an easy decision for the prison governors to make and accept that is the case, but fully expect it will disappoint a lot of prisoners who considered a competitive game of football as the highlight of their week.
"The feedback the league had is that it aided their rehabilitation, with numerous prisoners also joining other teams upon their release," added Mollet.
The league will hold an extraordinary general meeting on Thursday 6 August and if no new teams come forward by then it could be wound up.