Kilmarnock: Lee McCulloch leaves 'worst year' at Rangers behind
Last updated on .From the section Football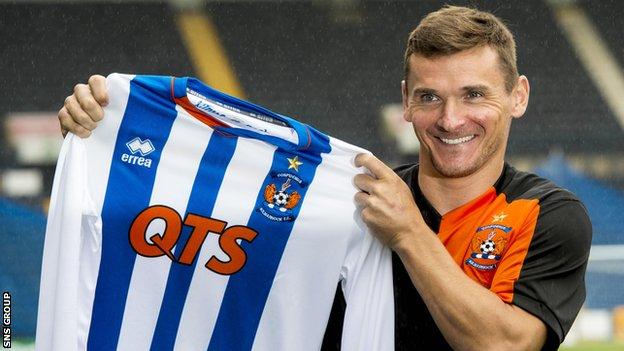 Lee McCulloch is looking forward to a fresh start at Kilmarnock having felt he ended his long Rangers career as the "fall guy" for a turbulent season.
"The last year was probably the worst I've ever experienced in football," he said, reflecting on Rangers' failure to win promotion to the Premiership.
"With all of the off-field problems, it was a car crash waiting to happen."
McCulloch joined the club he supported as a boy in 2007 after leaving Wigan Athletic.
He remained at Ibrox despite Rangers' financial collapse and captained the side to the League Two and League One titles.
But he found a section of the support turning against him after their attempt to secure a third straight title and promotion began to falter last season.
"It's not nice, that's for sure, but somebody's going to get it," said McCulloch, agreeing that events at Rangers left him close to "breaking point".
"The boys weren't doing it on the pitch, it's as simple as that.
"I was just the fall guy, being the captain, and I take full responsibility.
"But I don't want to focus on the last few months because I had eight tremendous years."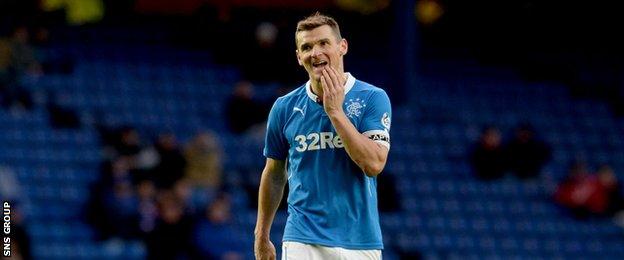 Rangers were embroiled in a boardroom battle that eventually led to a takeover by a group led by former Rangers director Dave King and McCulloch was unable to speak freely about it to the media.
"The fans were protesting against the board and, three or four times, I wanted to come out, but I was told not to," he told BBC Scotland.
"When we weren't playing well, I wanted to say that the team was massively underachieving and so is the club, but I was told to say 'we'll bounce back at the weekend'.
"And that must have been so frustrating for the fans to read in the papers or on social media, but you need to keep your mouth shut or you're breaching contract."
McCulloch believes that Rangers' new management team of Mark Warburton and David Weir will be a success.
It had looked like McCulloch might be part of their backroom team and he revealed: "We had talks, but Kilmarnock was the move for me.
"You can't move into a new job holding baggage from the past. You need to let go and focus on the future."
McCulloch made 46 appearances last season but does not expect to add to his career tally.
"I know I'm registered as a player, but I don't see myself playing," he added. "I'm here to help the younger ones get into the first team.
"I'm joining a big club that's not been punching its weight, that's been underachieving for the last four or five years, but when you look at the stadium, the facilities, it's a top-six club."