Sam Hammam prepared to take legal action against Cardiff City
By Ian Hunt
BBC Wales Sport
Last updated on .From the section Football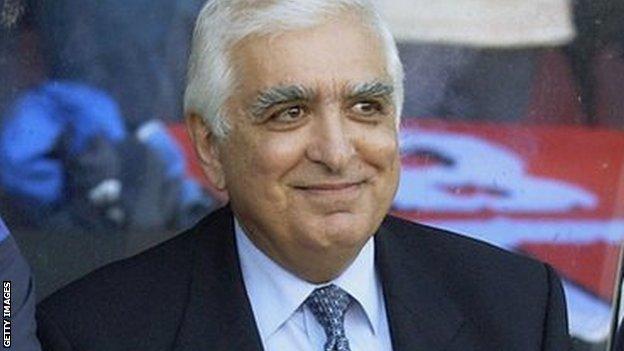 BBC Wales Sport understands Sam Hammam is prepared to take Cardiff City to court to fight any attempts to remove him as life president.
Hammam was made life president as part of the settlement Cardiff reached with creditors Langston to repay a £24m debt.
City's ex-owner has widely been seen as a representative of the corporation.
This latest twist comes after Hammam confirmed in February that current Cardiff owner Vincent Tan and the club were being sued over nearly £6m still owed to Langston.
The Swiss-based corporation claimed Cardiff failed to meet a 30 January deadline for repaying the outstanding amount of £5.75m.
The club want to know the identity of Langston before paying anything.
The Championship club issued a counterclaim against Hammam and Langston with the High Court.
It is believed Cardiff City claimed the Championship club actually overpaid on the debt.
Earlier this week a senior Cardiff City source said: "Cardiff would be delighted to give up itself to any arbitration, as long as it is fair and transparent and we know who Langston are."
Contrary to some reports, it's understood Hammam did not ask the Football Association of Wales to arbitrate in the dispute between Cardiff and Langston.
Nor did he ask the FAW to intervene in any attempt to remove him as president, choosing instead to fight this through the courts if necessary.