Morgan Schneiderlin: Man Utd newcomer 'benefited' from drop
Last updated on .From the section Football
New Manchester United signing Morgan Schneiderlin says dropping into League One with Southampton was the "best thing" to happen to his career.
The 25-year-old has joined United for a fee in the region of £25m after seven years with the Saints.
He is confident he can help the Red Devils end two years without a trophy and wants to "win everything".
Reflecting on his relegation with the Saints in 2009, the France midfielder said: "Looking back, it benefited me."
He added: "I had to toughen my play, to look myself in the mirror and look where to progress. It makes you realise you don't want to be back there.
"It was the best thing possible, it makes you work even harder and that's what I did."
United last won the Premier League in 2013, and Schneiderlin said: "It's a must for the club to be in the top four and winning the title is very important.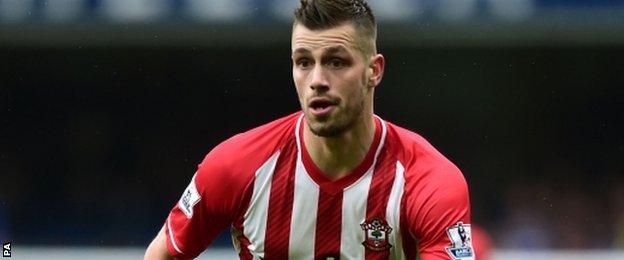 "With the players we have in the team you see there is a lot of quality. We are ready to do our best and then mix it with the Champions League.
"These are the two main targets for the club - but we want to win everything, it's as simple as that."
Schneiderlin said he was "ready for the challenge" of playing for United.
He added: "I could have left Southampton before but I felt this was the right move for me."