FA's decision on Malky Mackay texts sends 'shocking message'
By Alistair Magowan
BBC Sport
Last updated on .From the section Football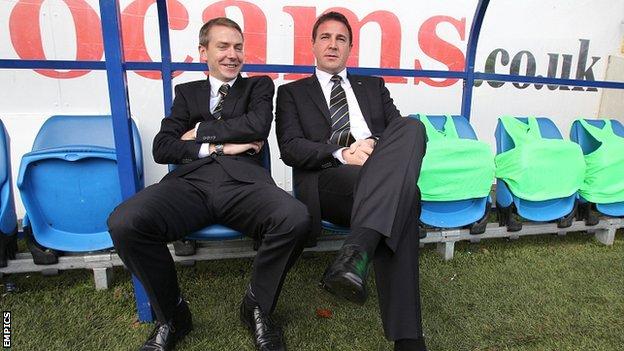 The Football Association's failure to charge Malky Mackay and Iain Moody over allegations they sent discriminatory texts sends a "shocking message", says former footballer Jason Roberts.
The FA said it could not punish the ex-Cardiff manager and head of recruitment because the texts were sent with a "legitimate expectation of privacy".
But the FA said its policy on private communications was under review.
"The decision sets a dangerous precedent," said ex-striker Roberts.
"With real issues of governance, where the FA have to take a real stand, we see a lack of will and determination.
"It sends a shocking message to football and, more worryingly, to wider society."
Text messages allegedly shared by Moody and Mackay (as reported in Daily Mail)
"Go on, fat Phil. Nothing like a Jew that sees money slipping through his fingers" - On football agent Phil Smith.
"He's a snake, a gay snake. Not to be trusted" - Referring to an official at another club.
"Not many white faces amongst that lot but worth considering" - Referring to a list of potential signings.
The FA said it had spoken to Mackay and Moody about the "inappropriateness of terms used in the messages" following an 11-month investigation that involved 27 witnesses.
Mackay, who was sacked by Cardiff prior to the revelations, apologised for sending offensive text messages, which came to light in August 2014, but denied he was racist, sexist, homophobic or anti-Semitic.
With the FA's investigation still ongoing, the Scot was then appointed Wigan manager by Latics chairman Dave Whelan in November 2014, but was sacked in April after a run of poor results.
Former Wigan, Blackburn and Reading striker Roberts agreed with anti-discrimination body Kick it Out, who said the FA's promise to review its policy was "lamentably late".
In May 2014, the FA did not take any action over sexist emails sent by Premier League chief executive Richard Scudamore because they were also private and leaked via a former Premier League colleague.
The FA's decision not to charge Mackay and Moody was also criticised by the Jewish Leadership Council and Women in Football.
But the governing body said it had a strong record when it came to punishing discriminatory behaviour.
Roberts, who retired from football in March 2014, added: "The FA are saying that their rules don't allow us to look at private texts yet they can fine people for a myriad of other offences - singing songs about a rival club, tweeting or re-tweeting something that people find offensive.
"It shows a lack of determination and understanding in these issues but they are not alone in this.
"I want to open it up above the FA. This is about Mackay getting an opportunity to work in the game while this case is still continuing. This is about him being found to speak the way he does about his job and there is still an opportunity for him to be part of the game, probably in the future as well.
"This will be forgotten about and Malky Mackay will be back in a job soon wearing an anti-discrimination badge and will be welcomed back as one of the good old boys again.
"I think the whole of football needs to have a look at itself."