Ron Vlaar: Former Aston Villa captain out for four months
Last updated on .From the section Football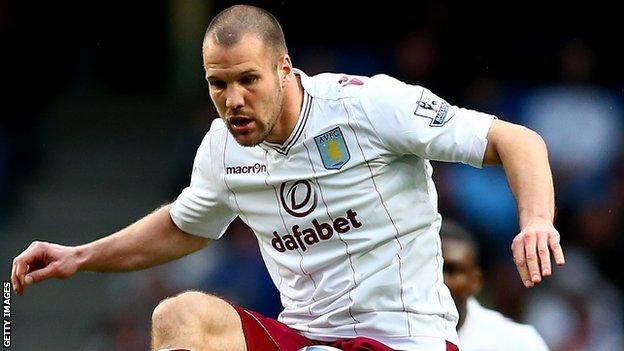 Ex-Aston Villa captain Ron Vlaar has confirmed he will be sidelined for four months after having knee surgery.
The 30-year-old defender is a free agent after leaving Villa in the summer and had been linked to both Lazio and Southampton.
But the Netherlands international has revealed he had an operation in Rotterdam last Wednesday.
"There is only one thing in my mind and that is to be completely fit again," he wrote in a blog post.
Vlaar was ruled out for six weeks in January with the same knee problem and he said it will take longer to heal second time around.
"Instead of two days with crutches, there will now be a four-to-six week period. Instead of four weeks' rehabilitation, it will now take three-to-four months," he added.
"Two days after surgery the knee is very stable and that is the basis from which to start exercising.
"Where will this eventually bring me? At the level that suits me and I always aim for the highest goal. I'm sure l will be fine."