Aaron O'Connor: Ex-striker unsure over Newport County season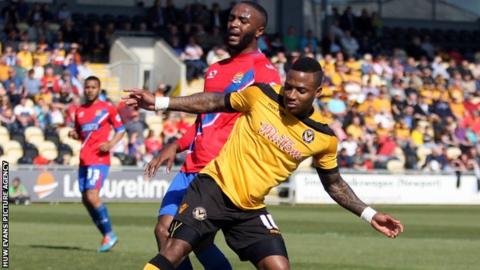 Former Newport County striker Aaron O'Connor says the club's forthcoming season "could go either way".
The 31-year-old was one of 15 players who departed as new boss Terry Butcher opted to rebuild his squad in the wake of a cut to the playing budget.
Only five senior players from last season remain, with 10 new signings.
"They could take people by surprise and be the unexpected team in the pack, or they could find it hard," O'Connor said.
"They could go through that rebuilding stage and you've seen with some clubs it can take two, three seasons to get a team assembled.
"[Former Newport manager] Justin Edinburgh was good at assembling a team quickly, he knew how to get people together and get going quickly.
"If Terry Butcher can get them going quickly then I'm sure they'll be fine."
O'Connor was signed by Edinburgh from Luton Town in 2011.
He scored 31 goals in 87 appearances in three years at the club before joining big-spending National League side Forest Green Rovers in June.