Javi Guerra eyes Cardiff City departure
Last updated on .From the section Cardiff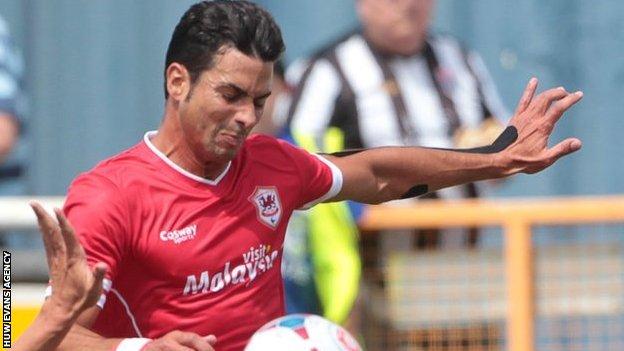 Spanish striker Javi Guerra has said his Cardiff City days are coming to a close after "not succeeding" there.
Guerra, 33, joined Cardiff under ex-boss Ole Gunnar Solskjaer in May 2014, but admits leaving would now be best.
"The situation in sporting terms is not good and I imagine we need to try to reach an agreement and terminate the contract," Guerra told BBC Radio Wales.
Solskjaer's successor Russell Slade has said Guerra could return to Spain after being on loan at Malaga last season.
Guerra played for Bluebirds' development team at Carmarthen Town at the weekend and said: "Clearly that's not what I want or what is expected of me."
He says Cardiff and himself share responsibility for his lack of progress at the club after making three Championship appearances off the bench in 2014-15 before his January loan move.
At Malaga, he scored five goals in 13 appearances.
"It's not that it's difficult, it's just the mentality or the way you see football is different in Spain.
"At the beginning the adaption wasn't easy with people saying this player isn't worth the money or we don't like this player.
"Cardiff came to Valladolid to sign me, but the adaption wasn't easy.
"I blame both myself and the club to have not succeeded, the club didn't have confidence in me and I found it hard to adapt to English football."
Guerra says lack of Cardiff game time underlines why he favours a return to his homeland and says clubs there are monitoring his situation.
"Any player wants to feel valued in his team or at least have the chance to play and I haven't had it here since I signed for this team.
"For me, Spain, as it is my country - and I know the league - it would be much better and I wouldn't need to adapt.
"In the end it all depends on which team wants and trusts you.
"There are clubs that are watching, that are aware of the situation I would like to reach an agreement with them. I cannot say who they are."