Stephanie Roche: US women's football is 'cut-throat'
Last updated on .From the section Women's Football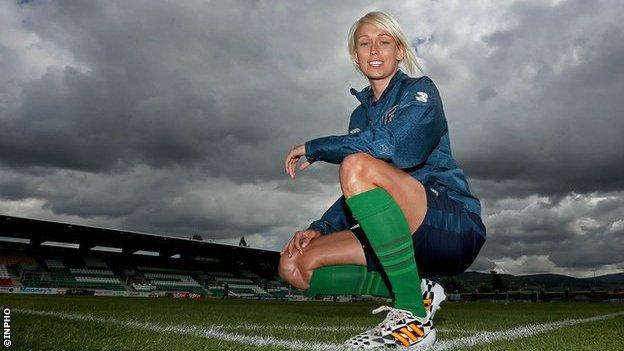 Stephanie Roche, runner-up in Fifa's goal of the season award for 2014, says women's football in the United States is "cut-throat" after her short-lived stint with Houston Dash.
"I was doing well but I wasn't getting much game time," she told BBC Sport.
"I got back from international duty to be told I was being released. It was a big shock."
Roche, who was was nominated for the Fifa Puskas Award following her volleyed goal for Irish women's club Peamount United, was released to free up space for two more players.
"I think it's taught me a lesson that with football, it can be cut-throat in America," added Roche, who had signed a two-year deal with Houston Dash.
"To come home and be told I wasn't going to be there wasn't a nice thing to hear but as one door closes, another door opens.
"I had a couple of clubs come in for me when I was finishing up. I was very happy with that because I was down on my luck and I didn't really know what was going to happen next.
"I was just one of the unfortunate ones: mine was made a little bit more public I suppose but it happens all the time."
Despite her experience, Roche said she does not regret trying to forge a career in the US.
"If I didn't go, I wouldn't have known what it was all about," she said.
"I went and I experienced it. It's all a learning curve for me and I can take something from it.
"Unfortunately it didn't work out but I'm here now and I want to do well."