Charlie Browne takes over Jersey Football Combination
By Brent Pilnick
BBC Sport
Last updated on .From the section Football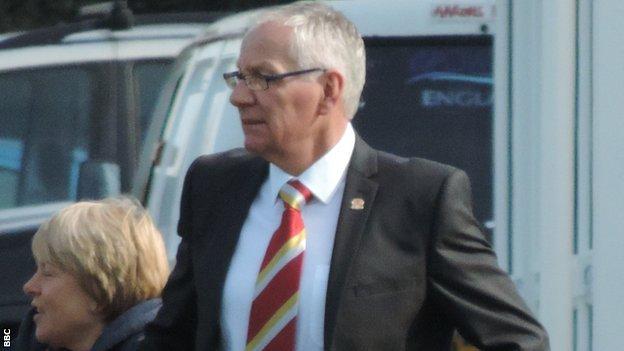 Charlie Browne has been appointed as the new president of the Jersey Football Combination, as the island league restructures itself for 2015-16.
Browne, who is a former Jersey FA vice-president and president of St Paul's FC, was elected unopposed at the league's annual meeting on Monday.
Clubs also voted to combine the two divisions to make one 16-team league.
It will split into two eight-team leagues after every team has played each other once.
The decision to change the league structure came after St Martin's pulled out of the league earlier this summer.
With Magpies folding in April it had left the island's second tier, the Championship, with just six teams, while the Premiership had 10.
Jersey leagues at the end of 2014-15 season
Premiership:
Jersey Scottish, St Paul's, Jersey Wanderers, St Ouen, Trinity, St Peter, Rozel Rovers, St Brelade, St Lawrence, St Clement.
Championship:
St John, Portuguese, Grouville, First Tower, St Martin, Beeches, Sporting Academics.
Clubs will now play 22 games next season, with the league likely to start earlier than usual.
"A lot of people have been wanting more games," Browne told BBC Sport.
"In the last couple of years we've gone through periods when teams haven't played for four weeks and then get three games in a row."
Browne says less successful clubs are in favour of the restructure, despite the prospect of heavy losses, such as the 18-0 defeat bottom-of-the-Championship Sporting Academics suffered at the hands of champions St Paul's in last season's Charity Cup.
"We've got to be bold - if you're not bold you'll end up with a league nobody's interested in," said Browne.
"Sporting Academics were one of the biggest supporters of this change.
"They understand that sometimes the first cut is the deepest, but if it raises the standard of their football by learning and playing against these teams they can see it as a bonus."
The new structure will be reviewed at the end of the season and if the clubs are happy it will be continued in 2016.
Browne succeeds Tim Darwin, who stepped down after 14 years at the helm.
"He couldn't have more experience in all aspects of what we do in local football," Darwin told BBC Sport. "From club football, refereeing, involved in the JFA, he couldn't be more qualified.
"It's over to him now to breathe some fresh life into it."