Scott Booth: Glasgow City's new head coach targets next level

By Jonathan Sutherland
BBC Scotland
Last updated on .From the section Women's Football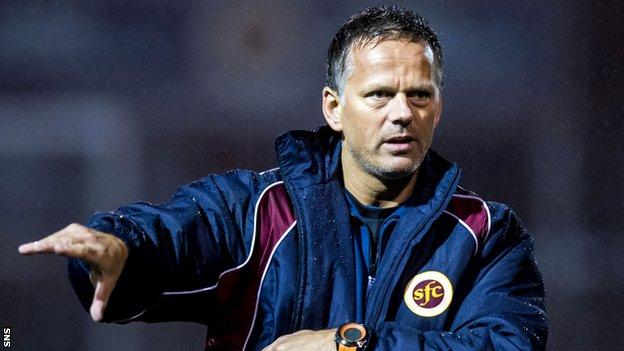 The new head coach of Glasgow City aims to take the club further in Europe than ever before.
Booth believes his challenge is to maintain the incredible success the club has already enjoyed.
But the former Aberdeen and Borussia Dortmund striker also says his objective is to take Glasgow City beyond the quarter-finals of the Women's Champions League, with City having made the last eight last season.
"When you come into a club generally speaking there's something not going right," he said. "That's not the case here.
"So it's a real challenge for me that we maintain that [success], are consistent, deliver at a really high level, and the real challenge is: can we go one better in the Champions League? Can we be more successful?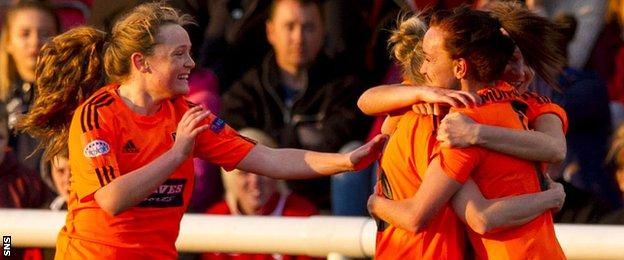 "That's something I'm looking forward to and I feel it's achievable."
"I was looking for a challenge, a real challenge - which I'm going to get here. To maintain success at a club is very difficult given the amount of success this club has had, but it's something I feel we can do."
The 43-year-old was capped 22 times in a hugely successful playing career in the men's game. His experiences at managerial level have so far been less successful - he spent an unsuccessful year with Scottish League One side Stenhousemuir after working Scotland's age grade sides.
But he doesn't expect working with women footballers to be hugely different from working with their male counterparts.
"The main thing is the football isn't any different - it's football players playing the game of football," he explained.
"I'm looking to do what I love to do as a coach which is develop young players, to get the best out of the best young Scottish players we have but also as a squad get that blend right so that we do have experience around them that they can help the younger players coming through. We are looking for that blend.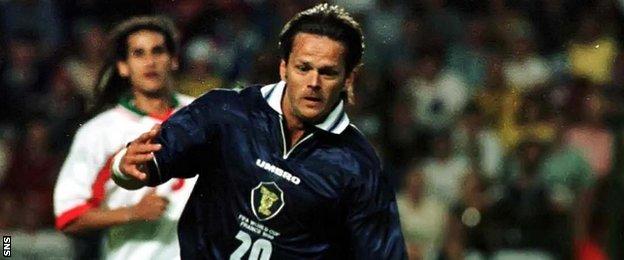 "I do feel the squad has the right players. We will look for one or two, potentially. But at the moment it's for me to come into the club, not change too much at the moment and to assess things and at the same time remain successful.
And he's not worried about how people might react about his switch from the men's to the women's game.
"Everyone I have spoken to so far has been really positive," he added. "To be honest, it doesn't bother me. I'm focused on a job I really want to do here, and a job that I was brought in to do. It's going to be a difficult job and it's going to be an enjoyable job.
"And the fact that the club's infrastructure is so good, the people behind the club and have created this club have done an amazing job and I'm really happy to be part of it."
Among the others who had sought to replace former coach Eddie Wolecki Black were individuals with Scottish Premiership experience.
And City club manager Laura Montgomery was surprised by the level of interest.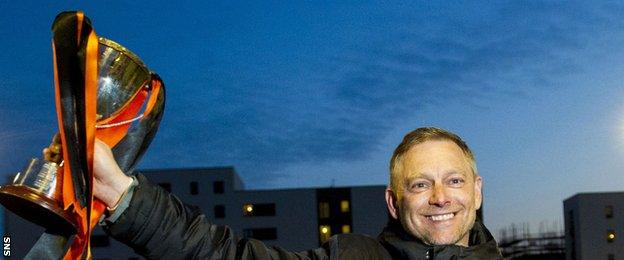 "We had advertised for a Pro-Licence holder so we thought that would limit the number of applications, but absolutely not," she said.
"I think going through the volume we had, and we had so many good people there not just based in the UK but also based abroad all across Europe and beyond, it was a difficult challenge but finally we managed to whittle it down to a few for interviews and out of that Scott came out on top.
"It was predominantly male applicants. I think that comes down to the fact that we advertised for Pro-Licence holders and even if you just look at the stats on the gender balance of who holds Pro-Licences it was always going to be a sway towards a number of male applicants.
"I think our vision is together. In our interview he [Booth] was very knowledgeable about our club and the women's game. He was very clear about what he wanted to do, about taking the club forward. Everything he said was really in tandem with how we want the club to go forward."