Favourite football celebrations: the Sportsday vote results
Last updated on .From the section Football
We asked you to vote for your favourite football celebration from our selection on BBC Sportsday.
The 16st striker - who can bench press 28st and is ranked as one of the strongest players in Fifa's football games - has asked fans to choose his goal celebration for the coming season.
"When you score a goal you're smiling so why not go the extra mile - although I did try a cartwheel in practice and it didn't quite work!" Akinfenwa, 33, told BBC Sport.
Here are the results and The Beast's ratings out of five stars (the breakdown can be found on the BBC Sportsday page for Wednesday):
1. Jimmy Bullard's finger wagging
v Manchester City, 2009
Hull City midfielder Jimmy Bullard equalised against City in the 1-1 draw and followed it with a celebration that saw him mimic his manager Phil Brown.
Akinfenwa says: It was unheard of to get told off by the gaffer on the pitch. So for Bullard to score and do a parody of that was brilliant.
Rating: 4.5 stars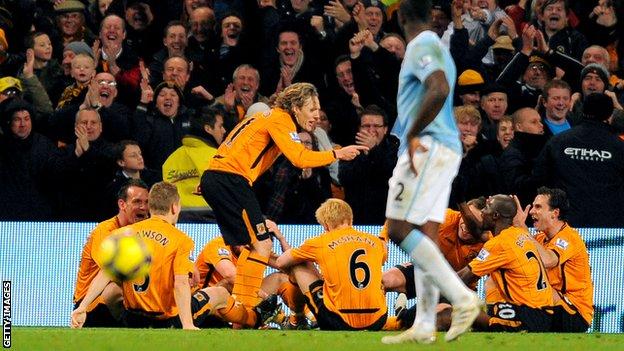 2. Gazza's dentist's chair
v Scotland, Euro '96
Paul Gascoigne had water squirted in his mouth after scoring against Scotland at Euro '96, in response to reports he took part in a drinking game during a pre-tournament trip to Hong Kong.
Akinfenwa says: That's a five stars. That celebration was Gazza laughing back at the media. Fantastic.
Rating: 5 stars
3. Mario Balotelli's 'Why Always Me?' T-shirt
v Manchester United, 2011
Manchester City's Italian striker courted more publicity by lifting his shirt to reveal 'Why Always Me?' on his T-shirt after scoring against United in the 2011 6-1 win.
Akinfenwa says: I don't like to be controversial for no reason. But certain players just got stick and he was one of them. That was his response.
Rating: 5 stars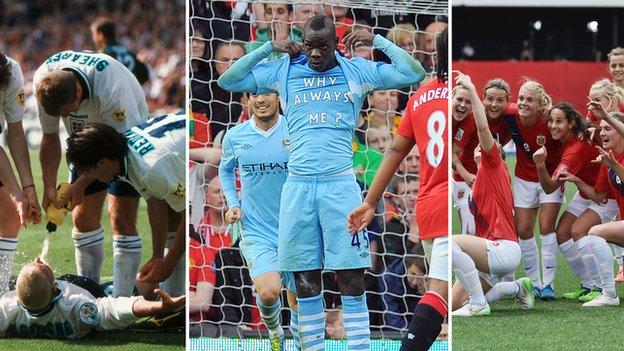 4. Wayne Rooney's boxing
v Tottenham, March 2015
Manchester United striker Wayne Rooney scored in the 3-0 win over Spurs and celebrated by shadow boxing and falling over, hours after a video was published showing him appearing to be knocked out by former team-mate Phil Bardsley.
Akinfenwa says: That's a five stars. He owned it. The private video came out, and people were laughing at it. We are human beings and these things happen. Rooney's response got a big salute from me.
Rating: 5 stars
5. Roger Milla's wiggle
World Cup 1990
The 38-year-old Cameroon striker showed more youthful vigour than most at the tournament, scoring four goals and celebrating each with a dance at the corner flag.
Akinfenwa says: Come on now, that's a five stars. My mum liked that - if I mention "Roger Milla" she knows what I'm talking about. At the time that was something different.
Rating: 5 stars
6. Colombia's 'Thriller' routine
v Japan, World Cup 2014
One of Colombia's many colourful goal celebrations at the 2014 World Cup saw players act like zombies - possibly in tribute to Michael Jackson's Thriller video - following Juan Cuadrado's penalty against Japan.
Akinfenwa says: Anything where a team gets involved, I like - it shows unity. I don't remember that one, but I'll give it three.
Rating: 3 stars
7. Norway selfie
v Thailand, World Cup 2015
Norway's Isabell Herlovsen celebrated her second effort in the 4-0 win over Thailand by joining a 'team selfie' with an imaginary camera.
Akinfenwa says: I like this one because the selfie craze is crazy. I'd probably want a phone in the dugout, run over and then take a selfie with the fans behind me.
Rating: 3 stars
8. Karen Carney's golf putt
v Colombia, World Cup 2015
England winger Karen Carney followed up her goal in the 2-1 win over Colombia at the Women's World Cup with a golf-putt celebration. A goal in one?
Akinfenwa says: That was cool, but it's a bit simple.
Rating: 3 stars