Bristol City fans snub season opener over £39 ticket price
Last updated on .From the section Football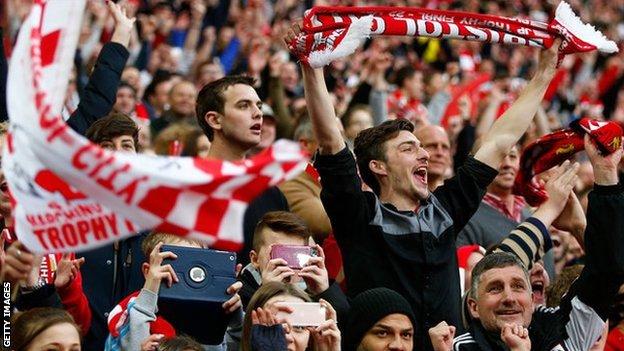 A section of Bristol City supporters are planning to miss their first game back in the Championship over what they call "astronomical" ticket prices.
Away supporters who travel to Sheffield Wednesday on the opening day will be charged up to £39 for a ticket.
"For some of us, it is a matter of principle," said a statement from the Bristol City Supporters' Club & Trust.
"It is going to hurt to do this, but the Supporters' Club & Trust has decided not to attend this game."
Bristol City won the League One title in April to secure their return to English football's second tier following a two-year absence.
The Robins have received an initial allocation of 1,068 tickets in the Leppings Lane End at Hillsborough on Saturday, 8 August.
Other ticket boycotts and protests
Liverpool fans
boycotted their match at Hull City in April of 2015 over the £50 ticket price.
Manchester City
supporters did not attend a game against Arsenal in 2013 because of the £62 admission fee.
Arsenal and Liverpool fans
protested about ticket prices of up to £64 before their match in 2015 at Emirates Stadium.
West Bromwich Albion supporters
threatened a boycott over the £56 entry fee to watch the Baggies play at Manchester City in 2015.
The Supporters' Club & Trust say that, along with travel and expenses, the ticket price is "too expensive".
The statement added: "Nobody's calling for a boycott, we just think it is a step too far.
"We think many City fans will vote likewise and choose not to go. Maybe in that way Sheffield Wednesday will get the message that this is unreasonable. After all, it will only cost Reading fans £25 when they go to Hillsborough. Where's the sense in that?"