Russia 2018: Ex-Russia ambassador in World Cup warning

By Dan Roan
BBC sports editor
Last updated on .From the section Football
Stripping Russia of the World Cup would cause a "blast" that could exacerbate the Ukraine crisis, a former ambassador to the 2018 hosts has warned.
Fifa's controversial awarding of the 2018 and 2022 tournaments to Russia and Qatar respectively is the subject of twin corruption investigations in the US and Switzerland, leading to speculation there could be a re-vote.
But on the eve of the qualifying draw for the competition in St Petersburg, former British ambassador to Russia Sir Tony Brenton told the BBC that such a decision would "completely overthrow progress" with the conflict in Ukraine.
"At the moment the Ukraine crisis has calmed down, the amount of fighting has calmed down," he said.
"There is the prospect of sanctions being lifted.
"But a lot hangs on there being no major 'blast' which blows things off course, and Russia being deprived of the World Cup would be such a blast."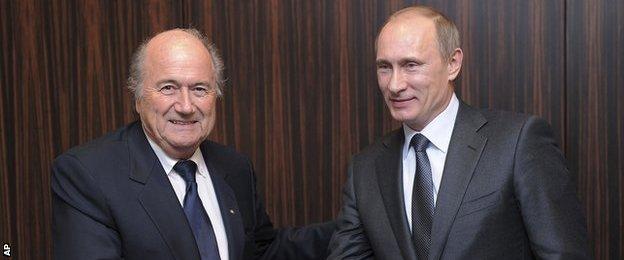 More than 6,400 people have died in fighting in eastern Ukraine that began in April 2014 after Russia's annexation of the Crimea peninsula.
"One of the things best calculated to completely overthrow progress would be the Russians being stripped of the World Cup, which they would see as a direct political assault on them," said Brenton.
Last year an internal Fifa investigation into the bidding for the next two World Cups cleared Russia and Qatar of any wrongdoing. Both countries insist their bids were clean.
The head of the country's Olympic Committee, Alexander Zhukov, also said recently Russia is continuing with preparations to host the tournament, despite the criminal investigations into Fifa.
World football's governing body was plunged into crisis in May when senior football officials were arrested as the result of an FBI investigation into allegations of systematic corruption and bribery.
Last month the Swiss Attorney General said he would have no qualms if the authorities discovered evidence that would lead to Russia and Qatar being stripped of the World Cups.
However Russian sports minister Vitaly Mutko says there is no threat of his country losing the tournament. He said on Thursday: "We are in no doubt that Russia will host the World Cup."
Brenton said it would be "very infuriating" for the Russians were they to be stripped of the World Cup.
"They're all football mad. They would be very hurt and angry, and view it as part of a western plot against them," said Brenton.
"If done without persuasive evidence it is simply going to make the possibility of rebuilding our relationship with Russia much much harder."