Sepp Blatter is a victim, claims Russia 2018 chief executive

By Dan Roan
BBC sports editor
Last updated on .From the section Football
Fifa president Sepp Blatter is "a victim", according to the man in charge of the Russia 2018 World Cup.
Blatter is standing down in February as a result of a corruption crisis at world football's governing body.
But Russia 2018 chief executive Alexei Sorokin told the BBC that the 79-year-old Swiss was "a very brave person".
"Unfortunately he decided to take up responsibility himself for certain things which are not within his responsibility," he said.
Blatter is in St Petersburg for Saturday's World Cup draw, his first overseas trip since Fifa was plunged into turmoil by criminal investigations into allegations of systematic bribery.
"He has always been a friend of our country," said Sorokin.
"We respect his decision. We are certain everything he's doing is for the good of Fifa to which he has dedicated his life."
The bidding for the 2018 and 2022 World Cups are the subject of twin criminal investigations in the US and Switzerland, leading to speculation that Russia and Qatar could be stripped of football's flagship event and a revote ordered.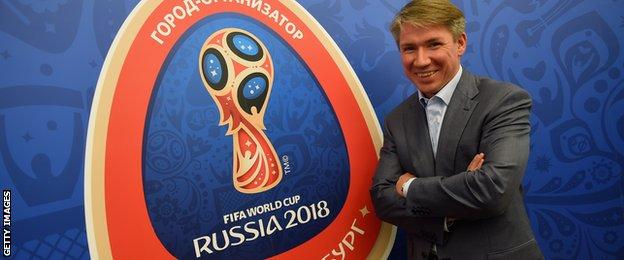 But Sorokin said the controversy was "casting shade on the most cherished Fifa product, the World Cup, without any grounds.
"It's a purely blown-up matter which hurts us. It keeps lingering on in the media and in people's minds, and that is really disappointing.
"We need to focus. It's time to go on and stop rubbing it in and discussing this."
Last year, an internal Fifa investigation cleared Russia of any wrongdoing and Sorokin said he had no concerns that they would lose the World Cup.
"So far we have been reading only the media about it. It's not part of our life. We have not received any requests or any official papers about this. These two investigations are done at the request of Fifa and that's proof that Fifa is perfectly capable of self-control."
Former Football Association chairman Lord Triesman feels Uefa should still boycott the 2018 World Cup.
"I have expressed in the past reservations I have of Russia hosting the World Cup," he said. "The process was problematic but it is impossible to investigate because all the computers have been destroyed. The documents have been shredded.
"They have taken over territory in part of its neighbouring country and been implicated in shooting down a civilian aeroplane. There have to be some limits as to what you can accept from a country to which you then award something with the prestige of a World Cup."
Sorokin on racism in Russian football
"It is an issue, it's a challenge and it's absolutely useless to try to neglect it. However it's not systemic in our society and we've had a lot of proof that it's not endemic.
"Most of these cases are individuals but it's not a collective effort. It doesn't represent a dominant mindset of our society. It's just these outbreaks and they've become more scarce now. It is unfortunate that they happen and would be naive to think we can eradicate it tomorrow.
"Education and sanctions can combat it. They will be criminally prosecuted and we have appropriate legislation in place for that."
On the Garcia report's claims that the Russia bid team destroyed computers
"They were not destroyed. The truth is they became obsolete and they were naturally discarded."
On suspicions surrounding Russia
"I understand that there is regrettably such an atmosphere created a long time ago around Russia that creates suspicions that we don't deserve. That is the biggest challenge that we live with, stereotypes, and part of our job is to overcome these stereotypes about Russia. We believe we are doing that."