Mark Sampson: England Women's manager eyes Euro 2017 title
By Tony Leighton
Women's football reporter
Last updated on .From the section Women's Football
Head coach Mark Sampson wants England to follow up their most successful Women's World Cup campaign with the European Championship title in 2017.
England start their Euro qualification with a trip to Estonia in September.
"People have said to me: 'We're the best in Europe now, we should go and win the Euros in 2017," said Sampson.
"It's not as easy as that, but I'm clear with the vision I need with the team come 2017.
"We've got to work back from that, putting steps in place to make sure that the team's in the best possible place to give themselves a chance of winning it - and that will be our objective."
Sampson is urging the Football Association to help him produce the strongest possible national team.
"There's a responsibility on myself and the FA to make sure we get the matches we need to allow this team to grow," he said. "We've got to make sure we play against the best teams in the world on a regular basis.
"We've got to go to places we've never been before - like Asia, for instance. We've got to play in more tournaments like the Cyprus Cup. We've got to give these players the best possible chance."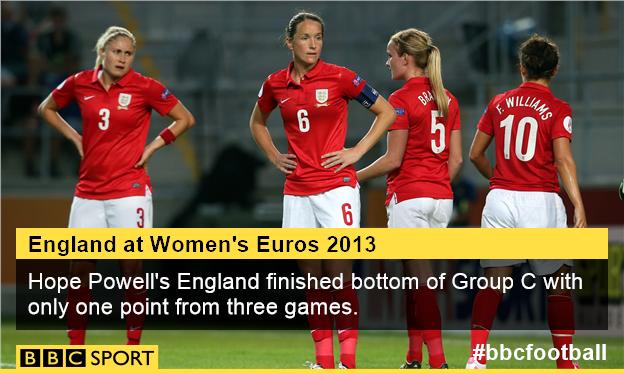 Sampson is also calling on Women's Super League clubs to give young English players more opportunities as the continuing influx of foreigners - like in the men's Premier League - denies openings for home-grown talent.
The England Under-19s finished bottom of their European Championship group with one point from three matches and Sampson said: "There's not enough domestic experience in that team.
"There are not many 18-year-old players playing regular WSL football and that's something that needs to be addressed.
"The managers and clubs will throw back at me, 'the players have got to be of sufficient quality.' Well, I believe they are, but we've got to prove to the clubs that they are. The players have got to do that themselves.
"We've now got to look at how can we address the balance to make sure that young English players get the opportunity to play at the highest level."
Sampson is also hoping that his own future as head coach will continue beyond its current term.
There has been post-World Cup speculation that the 32-year-old Welshman might be lured away to a new position, but he insisted: "I've made it clear that I'd love the opportunity to take this team to another World Cup.
"My contract goes up to the end of the Euros, and I'm really hopeful that someone will offer me the opportunity to go to another World Cup.
"That decision is up to the FA, so I'll do what I'm told. At the moment that's working with the team, preparing as best as I possibly can for the European Championship."