Gordon Strachan: Scotland pleased with England draw
Last updated on .From the section Football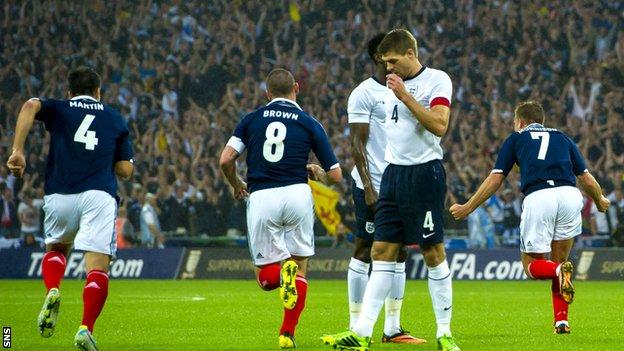 Gordon Strachan said the "whole of Scotland are roaring" after they were drawn against England in the 2018 World Cup qualifiers.
The Scotland coach saw his side paired with Roy Hodgson's men, Slovakia, Slovenia, Lithuania and Malta in their bid to reach the finals in Russia.
"From a supporters' point of view it's fantastic," he told BBC Scotland.
"It's the oldest fixture in the world, it's a fixture that I think both sets of fans enjoy the most."
The two rivals have not met in a competitive game since the Euro 2000 play-offs in 1999, which England won 2-1 on aggregate.
They have faced each other in recent years in friendlies; England winning 3-2 at Wembley in 2013 and again 3-1 at Celtic Park last year.
Who the home nations will play
Group C:
Germany, Czech Republic,
NORTHERN IRELAND
, Norway, Azerbaijan, San Marino
Group D: WALES
, Austria, Serbia, Republic of Ireland, Moldova, Georgia
Group F: ENGLAND
, Slovakia,
SCOTLAND
, Slovenia, Lithuania, Malta
See the complete draw here
Strachan said: "The first game we knew the England team would be at 100% and we dealt with that and it was a good game, we could have got something from it.
"The next game when they deservedly won against us I think they showed what great teams can do when they have a bit of fear about them.
"They understood if they let us play then they could have been in for a long night. So they pressurised us, they got close to us, and they made it a difficult night for us.
"That's a great lesson for us because that's the England we're going to be playing against. They had the eye of the tiger that night and I'm glad now we played that game."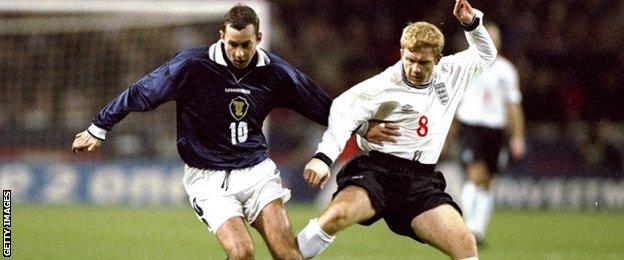 Slovakia were drawn from the pot of second seeds, and although it meant avoiding heavyweights France and Italy, the Slovaks have defeated Spain on their way to topping their Euro 2016 qualifying group.
"I think they're a bit like ourselves where they're not blessed with world class players, but they're blessed with good team players," said Strachan.
"Because of that they know their shape when they turn up, they know they have to work hard, again, similar to us in the way they go about their business.
"From a coach's point of view, the other teams, we've not locked horns with these teams before, we've never been in these stadiums. It's nice and fresh for us.
"The last two groups we've been involved in have been incredibly difficult."
The fixture dates are still to be confirmed, with the qualification campaign due to begin in the autumn of 2016.
"You never know what's coming, 18 months, a year, is a long time in football," added Strachan.