Mesut Ozil: Arsenal midfielder can have best season - Arsene Wenger
Last updated on .From the section Arsenal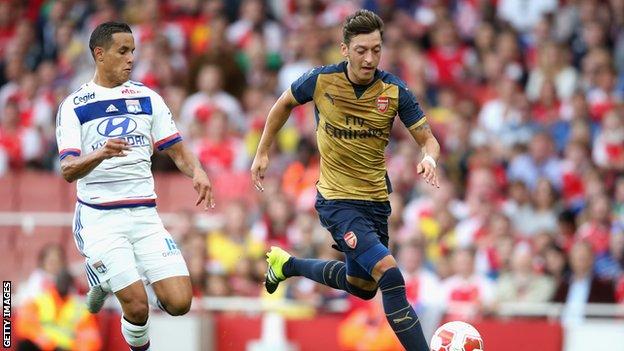 Midfielder Mesut Ozil can produce his best season since he joined the club, says Arsenal boss Arsene Wenger.
Ozil caught the eye and scored in the Gunners' 6-0 friendly win over Lyon and Wenger tipped him to be a key player.
"Could this be his best season? Yes. He had a difficult start but slowly he has won over our fans," he said.
"He missed the whole first part of the season last year and came back to his best level in the second part of the season - hopefully he can deliver a whole season now."
Arsenal director Lord Harris said earlier this week that Wenger has the backing to break the club's transfer record for a top striker.
But after watching his side emphatically brush aside Lyon, the Frenchman played down the need to strengthen the club's attacking options.
"When you score six goals you don't have a desperate need for a striker," Wenger added.
"We scored four goals in the FA Cup final, we create chances and score goals. We are open-minded, everybody is in the market and many clubs have big, big money."