World Cup 2018: Scotland coach looks forward to England 'buzz'
Last updated on .From the section Scotland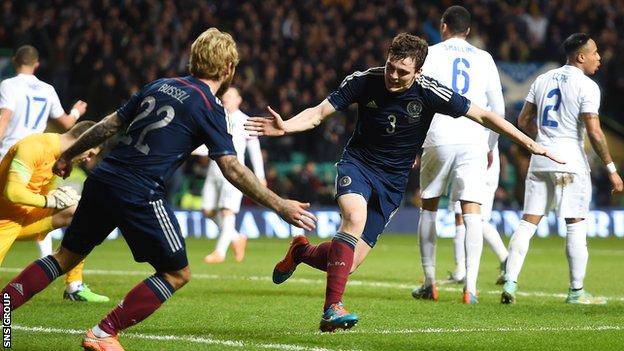 Coach Stuart McCall says England bring much-needed "razzamatazz" to Scotland's World Cup 2018 qualifying group.
"It's fantastic, the whole buzz it will create," McCall told BBC Scotland. "And England will be delighted to get Scotland as well.
"When you look at Slovakia, Slovenia, Lithuania and Malta, not too many people will know much about them.
"Most will make England favourites and think we'll battle with Slovakia for second but there's a long way to go."
England have beaten Scotland twice in friendlies since manager McCall joined manager Gordon Strachan's staff but the oldest rivals in world football have not met in a competitive situation since 1999.
"I was saying before the draw that I fancied England," revealed McCall.
"We've had Wales in the previous group, we've got the Republic of Ireland in this one, so it's worked out nicely.
"But who knows? We might get through to Euro 2016 and be in their group!"
McCall is also warning that Scotland will face challenges against the other sides in Group F.
"I was looking at pot two yesterday and thinking we don't want Italy or France," explained the former Motherwell and Rangers boss.
Scotland's World Cup 2018 qualifying fixtures:
Malta (a) 4 Sept 2016, 19:45
Lithuania (h) 8 Oct 2016, 19:45
Slovakia (a) 11 Oct 2016, 19:45
England (a) 11 Nov 2016, 19:45
Slovenia (h) 26 Mar 2017, 19:45
England (h) 10 Jun 2017, 17:00
Lithuania (a) 1 Sept 2017, 19:45
Malta (h) 4 Sept 2017,19:45
Slovakia (h) 5 Oct 2017, 19:45
Slovenia (a) 8 Oct 2017, 17:00
"But then you look at Slovakia. They are top of their Euro 2016 qualifying group, played six, won six, they've beaten Spain. So that will be tough.
"We'll keep an eye on them and all the other teams, and their Under-21 groups to see what players they have coming through."
Scotland are currently well placed in Euro 2016 qualifying and the coaching team will not be distracted from the task of trying to get to a first major tournament since 1998.
"It's exciting and I'm glad England came out," he said of the draw for Russia 2018.
"But our focus is entirely on the next double-header; Georgia, then Germany. That's our major concern right now."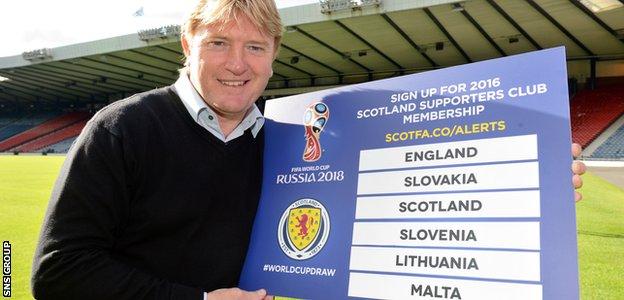 Alex Miller was assistant to manager Craig Brown when Scotland lost out 2-1 on aggregate to England in a play-off for Euro 2000.
And the former Hibs and Aberdeen boss is confident Scotland are on the right track under Strachan.
"The team is improving all the time, they have a structure and they know what they're doing," he said.
"The attack penetration is much better, they are looking like scoring goals, which is always a good thing.
"But the most important thing is to keep an eye on the present tournament and the players are too professional to look ahead."
The winner of each of the nine European groups qualify automatically alongside hosts Russia, with the best eight runners-up entering the play-offs in November 2017.