World Cup 2018: England host Scotland on Remembrance Day
Last updated on .From the section Football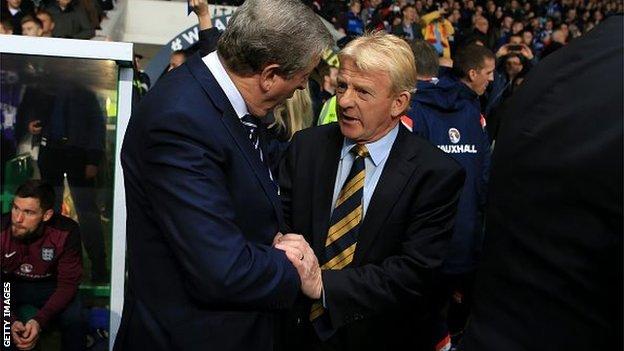 England and Scotland will meet at Wembley on Friday, 11 November 2016 to play their 2018 World Cup qualifier.
The game will kick off at 19:45 BST with the return match in Group F, at Glasgow's Hampden Park, at 17:00 on Saturday, 10 June 2017.
Wales will host the Republic of Ireland in Group D on Monday, 9 October 2017 with the away game on Friday, 24 March.
Northern Ireland face world champions Germany on Tuesday, 11 October 2016 and play the home game on 5 October 2017.
England's 2018 World Cup qualification fixtures

2016
2017

4 September: (a) v Slovakia

26 March: (h) v Lithuania

8 October: (h) v Malta

10 June: (a) v Scotland

11 October: (a) v Slovenia

1 September: (a) v Malta

11 November: (h) v Scotland

4 September: (h) v Slovakia

5 October: (h) v Slovenia

8 October: (a) v Lithuania
Northern Ireland's 2018 World Cup qualification fixtures

2016
2017

4 September: (a) v Czech Republic

26 March: (h) v Norway

8 October: (h) v San Marino

10 June: (a) v Azerbaijan

11 October: (a) v Germany

1 September: (a) v San Marino

11 November: (h) v Azerbaijan

4 September: (h) v Czech Republic

5 October: (h) v Germany

8 October: (a) v Norway
Scotland's 2018 World Cup qualification fixtures

2016
2017

4 September: (a) v Malta

26 March: (h) v Slovenia

8 October: (h) v Lithuania

10 June: (h) v England

11 October: (a) v Slovakia

1 September: (a) v Lithuania

11 November: (a) v England

4 September: (h) v Malta

5 October: (h) v Slovakia

8 October: (a) v Slovenia
Wales's 2018 World Cup qualification fixtures

2016
2017

5 September: (h) v Moldova

24 March: (a) v Republic of Ireland

6 October: (a) v Austria

11 June: (a) v Serbia

9 October: (h) v Georgia

2 September: (h) v Austria

12 November: (h) v Serbia

5 September: (a) v Moldova

6 October: (a) v Georgia

9 October: (h) v Republic of Ireland