Tour de France: Froome deserved win - now for my stag do

By Geraint Thomas
Team Sky's six-time Tour de France rider
Last updated on .From the section Cycling
After what happened at last year's race, my fellow Team Sky rider Chris Froome's victory at the 2015 Tour de France is all the sweeter.
Last year we got a real kicking; we didn't win any stages, and Froomey crashed out. As a team it just didn't come together for us, but this year we've turned it round and it's been great to be a part of it.
It's been a tough race, one of the toughest I have completed, and it did catch up with me in the Alps.
But because of the atmosphere in the team, the way everyone has been riding with each other, this is the best Tour team I've been in for sure.
I knew Froome would win
Froomey is so fiercely determined and dedicated that I was always confident he would hold on to his lead.
Nothing will get in his way. He trains and works so hard in every aspect, and that breeds confidence throughout the team. It's an infectious atmosphere, and when you're hurting that pulls you together to carry on.
It might have been different had I been watching Nairo Quintana's attack on the final climb up Alpe d'Huez on stage 20 on TV, but listening to the team radio I knew the kilometres left to go on the stage were falling quicker than Froomey's lead.
He knows his body and what he is capable of really well and I also knew that Richie Porte and Wouter Poels would ride at a good pace so he wouldn't lose too much time.
Best team always wins
Quintana has been blaming the time he lost in the crosswinds on stage two as the reason he finished second overall, but it's like what they say about the Premier League - the best team always wins.
Obviously I would say this, but we definitely were the strongest team. We didn't put a foot wrong in the whole race and that meant Froome could afford to have a bit of a bad day.
But after three weeks of intense racing, of constantly fighting for position ever since that windy day along the Dutch coast on the second day, I'm certainly feeling it.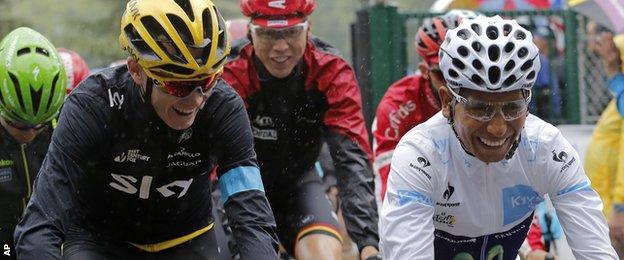 This year's edition was my sixth Tour de France and I do feel like I can deal with what's thrown at you a lot better, but all the same, the last few days in the Alps have really caught up with me. I'm super happy to finish.
All that tension and stress is gone and you can be normal again. You can see your fiancee again. It's a nice feeling.
The Tour is just a circus. Every day it's a big soap opera because there's always a big story with someone kicking off about something. Now I know I'm not going to be told what time to wake up the next day, and the whole last couple of months of dieting can go out the window too.
It is a great feeling to have finished but it's also a strange feeling too. A lot of the year has been building up to this point, and it's not as if it's an anti-climax but it all still feels surreal for myself and the team to have achieved so much.
Top five
As the days went on it became more and more real that I could actually finish in the top 10, but I always knew in the back of my mind that the race would catch up on me, and on stage 19, it did.
It wasn't a nice feeling to lose all that time but right from the start I knew I didn't have the legs. In the morning I weighed in at about 1.5kg lighter than at the start of the race, so I knew my body had been pretty depleted.
You have to try and fight it, fuel up as much as you can at breakfast and hang in there. But when you're going uphill and you start going backwards, there's not much you can do. No matter how much omelette, rice and porridge you've eaten.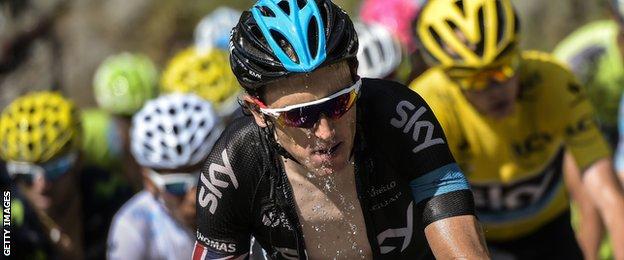 People had started talking about me getting a potential podium finish but my role was always about doing a job for Froomey and the team. I was just hoping for a decent spot, but before stage 19 a top 10 finish was certainly achievable. Finishing in the top five would have been out of this world. I finished 15th.
There is still a feeling of what might have been, but even though it didn't happen in the end it's definitely given me a massive boost and opened up my eyes to the future.
I haven't given much proper thought to my objectives for next season yet, but riding at the Giro d'Italia, before the Tour de France and the Olympics in Rio, where I hope to compete in the road race and maybe the time trial, would be too much.
I'll maybe ride the Vuelta a Espana, like I did this year, but it's a super long year starting in Australia at the Tour Down Under in January, and then the Spring Classics. We'll just have to sit down with the team and plan at the end of the season.
Back to reality
The transition back to normality after riding the Tour is is normally quite a strange period, but I've been helped this year in that I've got a really busy couple of weeks coming up.
I've got to be back at Team Sky HQ before spending a bit of time with my fiancee in London. We'll be taking in a few sights, and going to see a show.
And then Tuesday is the start of my stag. I'm getting married at the end of October, and the plan is to fly off to Berlin after a night out in Cardiff with some mates.
It's just as well then that there's no lasting damage from my collision with a telegraph pole on stage 16. My head's all right. I got really lucky there to come off so lightly, to be honest. I had a bit of a sore back but I've certainly had a lot worse.
Geraint Thomas was talking to BBC Sport's Patrick Jennings.