Theo Walcott: Arsenal boss Arsene Wenger hopeful of new deal
Last updated on .From the section Arsenal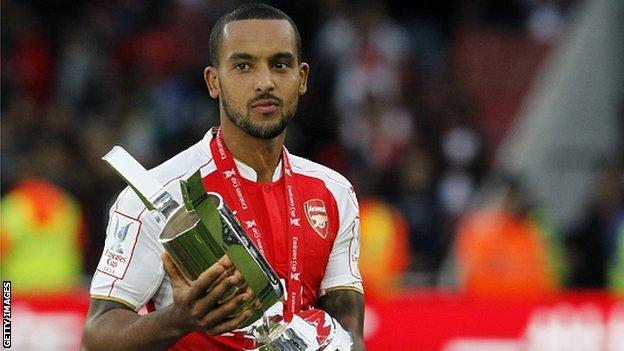 Arsenal forward Theo Walcott is getting "closer and closer" to signing a new contract, says manager Arsene Wenger.
The 26-year-old England forward has a year remaining on his current deal.
When asked about whether Walcott had signed a new contract, Wenger said: "Not yet. Hopefully we can finalise it very soon."
Meanwhile, Arsenal goalkeeper Wojciech Szczesny is set to join Italian side Roma and will have a medical on Monday in Rome.
Walcott, who joined from Southampton in 2006 at the age of just 16, scored the winner as Arsenal defeated Wolfsburg 1-0 to win the Emirates Cup on Sunday.
He signed a new three-and-a-half-year contract with Arsenal, worth £100,000 a week, in January 2013.
Walcott has made 302 league and cup appearances for the Gunners, scoring 76 goals.
He was hampered by a knee problem last season which limited him to 14 Premier League appearances.
On the future of Jeff Reine-Adelaide
Walcott might have scored the winner against Wolfsburg but it was 17-year-old Jeff Reine-Adelaide who set it up with a delightful pass during an eye-catching display.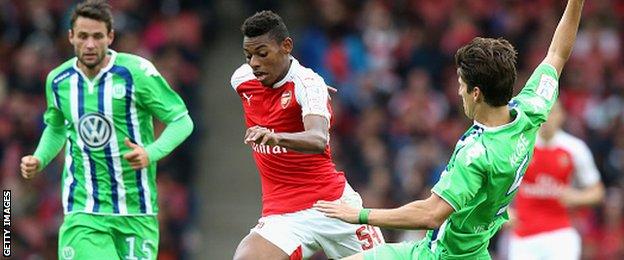 The winger only joined the Gunners from French club Lens earlier in the summer.
He was due to travel with the squad on the pre-season tour of Asia but was withdrawn at the last minute.
Reine-Adelaide made his debut as a substitute in the 6-0 win over Lyon the day before starting against Wolfsburg.
"He is 17 years old and he looks very promising but he needs to work with us for a year in the first team," said Wenger.
"To be an adult, to play for the Under-21s and to develop - there is fantastic potential there but he will stay with us."
On not signing a new forward
Arsenal have been linked with several strikers since the end of last season including Real Madrid forward Karim Benzema, Manchester City's Edin Dzeko and Pierre-Emerick Aubameyang of Borussia Dortmund.
But two weeks ahead of the new league season, Wenger has yet to strengthen his forward line.
Asked about not signing a new forward, the Arsenal boss said: "I can understand this question because we are in the transfer period but I can only repeat what I already said.
"I would not like it to be too detrimental. Just watch the game and enjoy the game that you see."
On Petr Cech's home debut
Petr Cech, 33, made his home debut after signing from Chelsea for £10m and now has two pre-season trophies in two appearances after helping Arsenal win the Barclays Asia Trophy last week.
"He has top-level experience and he is a good communicator," added Wenger.
"He brings a sort of calmness as well in the way he responds the situation but he helped to lift the confidence of our defenders."
On Arsenal's pre-season form
Arsenal, who take on Chelsea at Wembley in the Community Shield next Sunday, could have three pieces of pre-season silverware by the time the Premier League season starts.
The Gunners have already secured the Barclays Asia Trophy and the Emirates Cup.
"The aim of the pre-season is to prepare to be efficient for the Premier League so come back in one month and I will tell you," when asked whether his side had enjoyed a good pre-season.
"The preparation is mentally good, physically as well but the real truth starts on 9 August against West Ham here and that's where we want to be efficient but the preparation has gone well so far."