Milk Cup 2015: Liverpool Juniors held but Rangers win again
Last updated on .From the section Football
A late goal from Kevin Berrios for American side GPS FC Bayern denied Liverpool victory in Tuesday's Milk Cup Junior Section game at Coleraine.
Glen McCauley gave Liverpool the lead with a backheel flick in the first half, his third goal of the tournament.
Rangers beat County Fermanagh 4-1 at the Showgrounds, with the help of a Zac Rudden hat-trick, to make it two wins out of two for the Glasgow side.
Co Londonderry are one of four Premier sides who have won both their matches.
They followed up their 3-1 triumph over Lusaka Academy on Monday, with a 3-2 success over Co Fermanagh on Tuesday.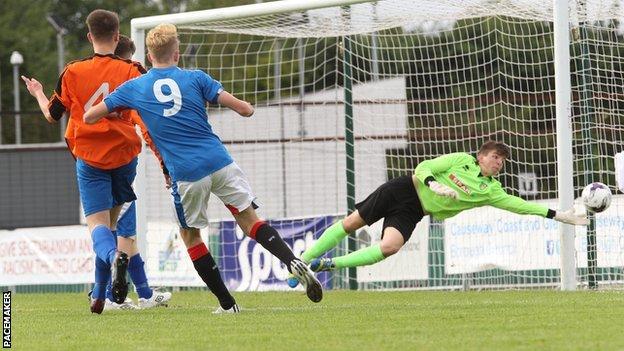 Ghana outfit Right to Dream maintained their 100% record in the Under-17 section by defeating Newcastle United 3-1 at Ballymena Showgrounds.
Chile team O'Higgins and CSKA Moscow are the other sides who go into Wednesday's fixtures with two successes under their belt and in pole position for semi-final places.
Having scored the only goal against Sheffield United on Monday evening, Rudden continued his fine scoring form by netting the opener against Co Fermanagh with a close range volley from a tight angle.
Callum Jones levelled for the Ernemen from the penalty spot but Rudden restored his side's advantage with a spectacular volley from inside the box.
Adedapo Awokoya-Mebude added the third and then Rudden completed his hat-trick from inside the area.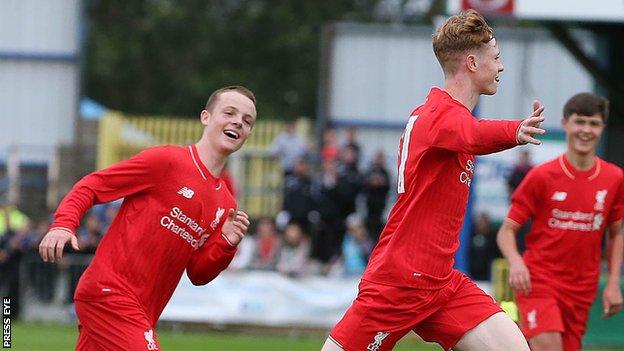 Right to Dream were the day's top scorers in the Under-15 Junior ranks as they made it 13 goals in two games by seeing off Swindon Town 8-1 at Broughshane.
The other sides to emerge from the opening fixtures with two wins are County Antrim, Sydney Utd, Plymouth Argyle and Southampton.
County Antrim beat Zacatepec of Mexico 3-0 in Ballymoney, the same scoreline by which they accounted for North Dublin SL on Monday.
Southampton went a goal down to Co Londonderry when Jordan McEneff nodded in from a long throw-in at Anderson Park in Coleraine.
Strikes from Harlem Hale and Will Smallbone proved enough for the Saints to secure victory however.
Tuesday 28 July - Dale Farm Milk Cup Junior Section Results
Co Antrim 3-0 Zacatepec
Brentford 1-0 Strikers
Co Down 0-1 Donegal SL
Sydney Utd 1-0 AS Roma-USA
Right to Dream 8-1 Swindon Town
Sheffield Utd 1-1 Dundalk SL
Plymouth Argyle 2-1 Colina
North Dublin SL 3-1 OC Blues
Southampton 2-1 Co Londonderry
Co Tyrone 2-1 Co Armagh
Co Fermanagh 1-4 Rangers
Liverpool 1-1 GPS FC Bayern

Tuesday 28 July - Dale Farm Milk Cup Premier Section Results
CSKA Moscow 1-0 Lusaka Academy
Vendee 1-4 Club America
O'Higgins 3-1 OC Blues
Co Tyrone 0-2 Co Antrim
Higashi Fukuoka 0-4 Strikers
Co Down 0-2 Motherwell
Co Armagh 2-1 Alset Colombia
Otago Academy 0-0 Real Sociedad
Co Londonderry 3-2 Co Fermanagh
Partick Thistle 0-5 Malaga CF
Newcastle Utd 1-3 Right to Dream