Toni Duggan: England fans want to see more passion from men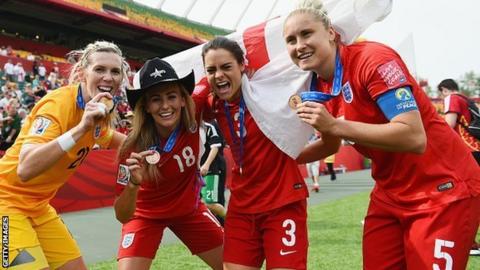 England women's striker Toni Duggan has said she feels people want to see a bit more passion from the men's team.
The 24-year-old was in the England side that finished third at the World Cup.
"I think the main thing from the nation was how much we give for the shirt and how passionate we were," the Manchester City player told BBC Radio Manchester.
"You could see the togetherness of our group. I'm not saying the men don't do that but I think from the outside, people maybe want to see that more."
The bronze medal the women's team won at the competition in Canada was the second-best performance at a football World Cup by an England men's or women's team.
It followed the 1966 win by the men's side and eclipsed the 1990 men's team, who finished fourth in Italy.
The tournament also saw record viewing figures on the BBC for women's football.